The monster-trashes-New York movie Cloverfield disarmed the "third rail" of dealing with Sept. 11 on film — and now Nicholas Cage is all set to dance on it. Cage's movie Knowing, now being filmed, uses Sept. 11 as a major plot point to set up its apocalyptic storyline. And it plays very explicitly with 9/11-style imagery, as you can see from some new set pics that came out.
G/O Media may get a commission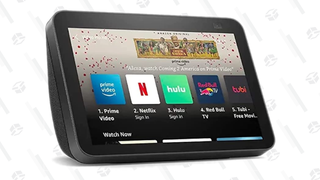 In Knowing, Cage digs up a time capsule that contains uncanny predictions about the future, which start coming true — and they culminate in the end of the world! And I guess the predictions are in the form of a numerical code, and the numbers 9/11 turn out to be significant. Says USA Today:

Cage acknowledges that 9/11 remains a fresh wound for American moviegoers, and films that touch on the terrorist attacks have suffered their own curse. "I know that number jumps out at people," he says. "But that's just a beginning point for the movie. And that doesn't mean you can't mention it. It's time for a return to dark thrillers that are relevant. We're already living in a world where up is down."

Director Alex Proyas (I, Robot) says that although film should never lose its aim to entertain, "there's still a need to address what's going on in people's lives. Hopefully, we do it in a light that's a positive experience but still responsible."
Meanwhile, ComingSoon has a set report and pics from that big plane crash scene, which recalls the 9/11 atacks so vividly. In the scene being filmed, Cage's character causes a traffic jam, wearing a hoodie in the rain. The cops are trying to talk to Cage to find out what's wrong, but he's struggling with one of his uncanny pieces of knowledge of the future. Then Cage looks at the sky, and reacts to a jet crash — then the jet crashes on the ground nearby. Cage runs to the jet engine while it's still running on the ground, and a woman is crying for help from the plane's tail section as there are explosions all around. There are pics at the link. [Coming Soon and USA Today]