Nikon's P90 doesn't boast the mightiest barrel of the increasingly ridiculous superzoom subset of digital cameras—that's Olympus's crown to wear—but 24x is serious step-up from the P80 and trumps Canon's latest.
Deadly Mississippi Tornado Kills More Than 2 Dozen | Extreme Earth
The lens zooms from a wide-angle 26mm to 624mm telephoto and naturally has built-in optical image stabilization. The camera itself is a 12.1MP shooter with an ISO range up to 6400 (though, given their pro point-and-shoot P6000's crummy high ISO performance, I don't have a lot of faith in it being too usable at that level). Helpfully, LCD tilts now, so you can see it from above. For $400, I'd have liked some HD video capability too, like Canon's SX1.
POWERFUL NEW NIKON P90 UNLEASHES CREATIVE FREEDOM WITH 24x OPTICAL WIDE ANGLE ZOOM, VARI-ANGLE LCD AND ADVANCED SHOOTING MODES

MELVILLE, NY (Feb. 2, 2009) – Photographers seeking high performance with a long zoom in a compact body now have the ideal camera with Nikon's unveiling of the new P90. As part of the flagship Performance Series of COOLPIX cameras, the P90 offers new features that include a 24x Optical Zoom, a new 3.0-inch vari-angle LCD monitor with tilt function and anti-reflection coating; and 15 frame-per-second (fps) high-speed capability (up to 45 frames). The P90 is the ideal photographic tool for photo enthusiasts, travel photographers and consumers with more advanced photography skills.
"Our portfolio of cameras is designed to ensure that any photographer, at any level can find the camera that feels right for them," said Bill Giordano, General Manager Marketing, COOLPIX for Nikon Inc. "The P90 blends the best of the digital compact and D-SLR camera worlds, allowing the more advanced consumer to really stretch their photographic capabilities."

The key to the versatility of the P90 is its 24x Optical Wide Angle Zoom-NIKKOR ED Glass Lens. This lens offers unbeatable compositional freedom, with its wide angle (26mm) to super telephoto coverage (624mm). The broad range lets consumers capture a variety of shots and scenes, ranging from sweeping landscapes to close-up action shots taking place on a sports field.
Additional features of the P90 include:
• 12.1 megapixels for stunning prints as large as 20 x 30 inches, while retaining fine detail.
• 3.0-inch Vari-Angle High Resolution LCD and Electronic Viewfinder make it easy to compose and share pictures with friends and family. The new LCD, with anti-reflection coating, can tilt as much as 90 degrees upward or 45 degrees downward. This enables photographers to shoot from higher angles or from the hip, and thereby make the best use of the reach and range of the 24x zoom lens. The incorporation of the high-resolution electronic viewfinder enables consumers to see through the lens in any lighting condition.
• 4-Way Vibration Reduction (VR) Image Stabilization
o Optical VR image stabilization compensates for the effects of camera shake by moving the image sensor, producing clearer, sharper results in lower lighting or unsteady conditions.
o Motion Detection automatically detects moving subjects and adjusts shutter speed and the ISO setting to compensate for camera shake and subject movement.
o High ISO 6400 capability creates new opportunities to take sharper, more natural-looking photos in lower light conditions (ISO 3200 and 6400) .
o Nikon's original Best Shot Selector (BSS) automatically takes up to 10 shots while the user presses the shutter, and saves the sharpest image.
• Program, Shutter Priority, Aperture Priority and Manual Exposure modes give ultimate control over images. The D-SLR-type mode-dial on the top of the camera offers consumers greater personal and creative control, in any type of lighting condition.
• New Sport Continuous Scene Mode for shooting at up to 15fps1 (up to 45 frames). This high-speed capture setting helps photographers stay ahead of the action.
• Smart Portrait System, which integrates the following to make it a snap to capture stunning portrait photos of friends and family:
o In-Camera Red-Eye FixTM, which automatically fixes most instances of red-eye.
o Enhanced Face-Priority AF, which can detect up to 12 faces from a variety of angles, including straight on, from the side, or even in a multitude of three-quarter positions.
o Smile Mode, which automatically detects when your subject smiles and releases the shutter.
o Blink Proof, which automatically takes two shots and saves the one in which the subject's eyes are open.
The P90 will be available nationwide in March 2009 and will retail at $399.95.
For more information on the P90 and all COOLPIX cameras, please visit www.nikonusa.com.
G/O Media may get a commission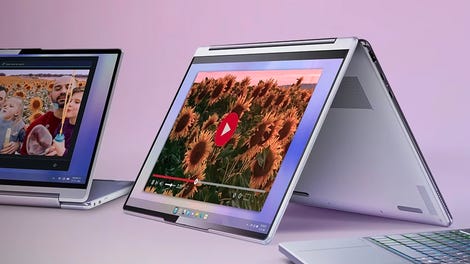 up to 70% off
Lenovo Spring Clearance