Pacific Rim: Uprising director Steven S. DeKnight still dreams of a crossover with King Kong and Godzilla. John Boyega teases a war in the stars for Star Wars: Episode IX. A Crazy Ex-Girlfriend star is coming to iZombie. Plus, Ant-Man and the Wasp concept art, a gory new look at Ash vs. Evil Dead, and a creepy new Westworld poster. Spoilers get!



Doctor Doom
Fargo and Legion showrunner Noah Hawley discussed his take on Doctor Doom in a recent interview with The Observer.
What's interesting to me about Doom's character is he's the king of an Eastern European country and is there a version of this that is more of a political thriller that mixes genre?…It's something that [Captain America: The Winter Soldier] did really well, which was kind of make a Cold War thriller movie out of a superhero movie. This is different than that, but it does have this idea of, and I don't want to say too much about it, but it is a mixture of genres… the mandate is not to re-launch the Fantastic Four franchise as much as it is to take this fascinating and under-served character and really build a movie about him where we ask the question: Is he a hero? Is he a villain? What does he really want?
---
Captain Marvel
That Hashtag Show claims Lashana Lynch is playing "the mother of a young child who would be a 'contemporary' of Carol Danvers." Regrettably, this does not sound like Monica Rambeau.
G/O Media may get a commission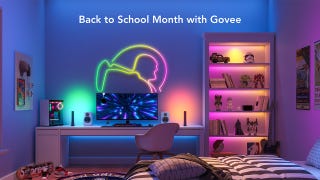 Back to School
Back to School Month with Govee Sale
---
Pacific Rim vs King Kong and Godzilla
In a recent interview with /Film, Pacific Rim: Uprising director Steven S. DeKnight revealed he still has an idea for a crossover with Legendary's other giant monster franchises, King Kong and Godzilla.
Just in my own head. I don't want anyone to think that was an official Legendary thing. That was Steve DeKnight the fanboy talking about what he would love to see. I have an idea, a plan for the third part of this Pacific Rim trilogy that would open up the universe and allow that crossover if Legendary wants to. It's totally up to them. As a fanboy, I would love to see it. But if they want to keep it separate, I'll still be paying for my tickets to see Kong, Godzilla, and more Pacific Rim.
---
Rian Johnson Star Wars Trilogy

During an interview with Erik Davis at SXSW, Rian Johnson stated he's not letting fan backlash influence his new trilogy.
---
Ant-Man & The Wasp
Empire Magazine has new concept art of The Wasp pasting a speeding motorcyclist. Fly on the windshield, she's not!


---
Star Wars Episode IX
During a conference call at Awesome Con, John Boyega described Episode IX as "all-out war."
Next for me filming wise is Star Wars: Episode IX in July, and they've officially given us a note to start training soon. I'm going to take a holiday before that, because I think Episode IX you know, regardless of where the story goes, and I haven't read it by the way, is going to be all out war so I know that I'm going to have to do all I can and train for that.
---
iZombie
In a clever piece of stunt casting, Rachel Bloom (Rebecca Bunch on The CW's Crazy Ex-Girlfriend) will guest-star on iZombie as a "pretentious theater actor" who has her brains eaten by Liv. [TV Line]
Spoiler TV has images from the episode in question, "My Really Fair Lady." More at the link.
Liv (Rose McIver) and Clive (Malcolm) investigate the murder of a pretentious theater actor (guest star Rachel Bloom "Crazy Ex-Girlfriend). Meanwhile, Ravi (Rahul Kohli) makes a huge sacrifice for Peyton (Aly Michalka). Lastly, Blaine (David Anders) makes a startling discovery.
---
Arrow
Oliver wonders if maybe this whole Green Arrow thing was just a bad idea in the synopsis for April 12th's episode, "Fundamentals."
In his darkest place yet, Oliver (Stephen Amell) wonders if he has failed at everything – being a father, a mayor and a hero. His frustration rising, Oliver lashes out at Felicity (Emily Bett Rickards) and William (guest star Jack Moore). A surprising visit from an old friend has Oliver questioning his next move.
---
Legends of Tomorrow
Jonah Hex teams up to fight Mallus in the synopsis for the season finale of Legends of Tomorrow, "The Good, The Bad and the Cuddly."
The Legends plan to vanquish Mallus by using the totems doesn't go as planned, forcing Rip (guest star Arthur Darvill) to improvise. The team finds itself regrouping in the Wild West where they run into their old pal Jonah Hex (guest star Johnathon Schaech). Sara (Caity Lotz) leaves Ray (Brandon Routh) in charge of watching Damien Darhk (Neal McDonaugh), while she comes up with a new plan. Meanwhile, Amaya (Maisie Richarson-Sellers) is determined to find a way to use the totems to destroy Mallus.
---
Black Lightning
Someone has tasked Tobias Whale to capture Black Lightning in the synopsis for April 10th's episode, "The Book of Pain."
Tobias (Marvin Jones III) returns to Freeland. He is tasked to capture – not kill – Black Lightning (Cress Williams) with the help of an unexpected source. After a battle of epic proportions, Anissa (Nafessa Williams) and Jennifer (China Anne McClain) provide surprising aid.
---
Black Mirror
Speaking at the Royal Television Society Awards, Charlie Brooker revealed season five has already begun filming:
Season five, we are filming one [episode] at the moment. We are about to start filming another one imminently. I'm writing the next one and then it gets a bit more foggy.
---
Marvel Rising: Secret Warriors
Head over to Nerdist to see character designs of the Secret Warriors as they appear in their upcoming webseries.
---
Westworld
If you speak to the new AI chatbot at Discover Westworld and type "chaos takes control," you will unlock this new poster spotlighting the park's dread robobuzzards.


---
Ash vs The Evil Dead
Bloody-Disgusting has an exclusive clip and an especially gory gallery of spoiler-filled images from this week's episode, "Baby Proof." Head over to see the NSFW rest.
---
Supernatural
Lucifer finds out ruling heaven isn't all its cracked up to be in the synopsis for "Bring 'Em Back Alive," airing April 12th.
Lucifer (Mark Pellegrino) rules over heaven but things aren't going exactly as planned, exasperating his first lady, Jo (guest star Danneel Ackles). Sam (Jared Padalecki) and Castiel (Misha Collins) are perplexed by the return of Gabriel (guest star Richard Speight Jr.). Meanwhile, Dean (Jensen Ackles) gets one step closer to finding Mary and Jack.
Finally, Dean reveals "he'd take a bullet for that dog" in the extended promo for Scoobynatural.
---
Banner art by Jim Cooke.