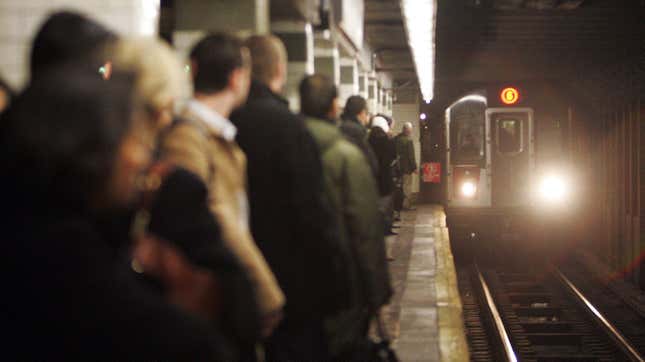 New York City's Metropolitan Transportation Authority has admitted it uses cameras equipped with AI software to scan riders believed to have jumped subway turnstiles without paying fares. The MTA, which says it collects the scans "as a counting tool" plans to expand the system to more than two dozen more stations by the end of the year.
Meet Microsoft's New Surface Laptops
An MTA official speaking with Gizmodo said the tools are only intended for "research purposes" but civil liberties groups fear the previously unknown monitoring of transit riders could pose long-term privacy risks and unnecessarily shift resources and focus away from exploring ways to make mass transit more affordable and accessible. MTA Spokesperson Joana Flores took issues with the use of the words tracking and scanning to describe the system.
"The MTA uses this tool to quantify the amount of fare evasion without identifying fare evaders," Flores said.
MTA revealed it deploys an AI system made by Spanish software company AWAAIT across seven stations in a May report first spotted by NBC News. The system tracks transit riders who allegedly use numerous methods to avoid paying ever more expensive fares. During the test period, for example, the system reportedly determined that 12% of fare dodgers ducked under turnstiles while 20% hopped over them. The majority of the cases (over 50%) involved passengers walking through open emergency exit gates. Presumably, that last data point means casual riders simply following others through an open door may wind up detected by this system.
Officials say they plan to expand the scanning software to around two dozen more stations by the end of the year with more to follow after that. A redacted MTA contract sent to NBC News by the Surveillance Technology Oversight Project shows the MTA experimenting with this system as early as July 2022. It's unclear whether or not the feature can detect riders' faces.
AWAAIT, the Barcelona-based AI company providing the software to the MTA offers a product called DETECTOR which it describes as a "real-time analytics system that helps to tackle fare evasion using a selective approach." One camera installed above a ticket barrier can monitor multiple gates at one time with "robust" accuracy, the company claims. Once offending passengers are identified, ticket inspectors can then receive an alert on an app. The company claims its system is now operational in three major cities.
AWAAIT did not respond to Gizmodo's request for comment seeking details on the accuracy of its systems or whether or not it can be used to detect faces. Instead, the company's founder and CEO Xavier Arrufat sent an email saying the company respects its users' privacy.
"We respect our customers' privacy, so we only comment on information they have already publicly disclosed regarding their usage," Arrufat said.
AWAAIT released a YouTube video showcasing DETECTOR operating in a Barcelona subway.
MTA says it won't share data with police, but rights groups aren't convinced
The MTA has justified the scanning as a way to try and address an estimated $690 million lost to fare evasion in 2022. In its report, MTA officials claimed it would be "cost prohibitive" to have human checkers perform hard checks of evasions at stations. The MTA did not respond to Gizmodo's request for comment on why it needs face scans in particular to accurately measure fare dodgers.
An MTA official told NBC News it's not currently sharing the data it gathers with New York police but would not comment on whether that practice would continue moving forward. An MTA official told Gizmodo it only stores the data collected from this system for a limited time, but could not provide more details when asked for a precise length of time.
Civil liberties groups expressed skepticism about the MTA's supposed commitment to silo this type of sensitive data away from law enforcement.
"In a city where law enforcement has a history of evading oversight of its use of technology, it's hard to believe that they don't have plans to use this to expand policing," Fight for The Future's Caitlin Seeley George told Gizmodo. "And while they might claim it's just to track fare evaders, it has the potential to expand surveillance of everyone traveling in the city."
STOP Executive Director Albert Fox Cahn agreed, adding that this surveillance approach overlooks the underlying cause for rare evasion: poverty and continually rising fare costs.
"This AI will just become a pretext for policing stations even more aggressively," Fox Cahn said in a statement. "But no matter how much surveillance we install, we can't get people to pay for the train if they can't afford it. And this raises real concerns about how the MTA is tracking New Yorkers and where that data is kept."
New York has made it clear they intend to boost surveillance capabilities throughout public transit in the name of public safety. Late last year, Governor Kathy Hochul held a press conference in which she said she hoped to install surveillance cameras in every subway car. Hochul went a step further and even invoked Geoge Orwell to say the quiet part out loud.
"You think Big Brother's watching you on the subways? You're absolutely right," Hochul said.
"If you're concerned about this, the best answer is don't commit any crimes on the subways—then you won't have any problems," the governor added.
Update 4:55 p.m. EST Added statement from MTA and AWAAIT.