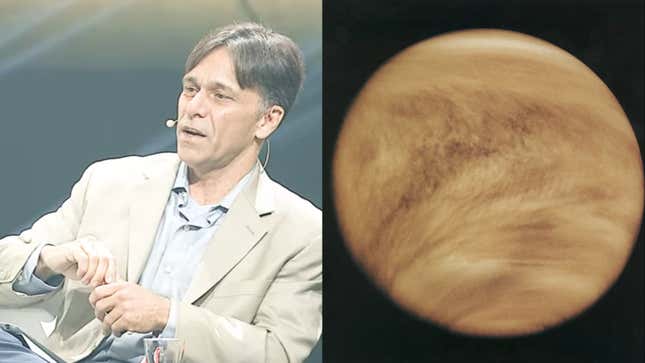 Just a few short weeks after OceanGate's own CEO perished along with four others in an implosion of the Titan submersible, the company's co-founder wants to send another group of people into another uninhabitable environment.
Teen Titan's Go! Warner Bros. Animation Crossover For WB100
In an interview with Insider, OceanGate co-founder Guillermo Söhnlein expressed his interest in sending 1,000 people to a floating space colony in Venus' atmosphere by the year 2050. Venus, sometimes dubbed the Hell Planet, is also known as Earth's twin, as it has a similar size and density—however, Venus' atmosphere consists of high-speed winds that churn up toxic levels of carbon dioxide and clouds of sulfuric acid. No matter, as Söhnlein remains steadfast in his interest, apparently citing some research that there is a tiny portion of Venus' atmosphere that might be survivable for a human colony. Söhnlein clarified to Gizmodo in a statement that it's a stretch to call Venus "habitable," and specified that temperatures and pressures in some areas of the planet are more Earth-like, citing NASA and research from Russia's Venera program.
"You're absolutely right that when you talk about going to Venus, it would raise eyebrows outside the space industry. And it even raises eyebrows inside the space industry," Söhnlein said to Insider.
Söhnlein left OceanGate in 2016 and has since founded Humans2Venus, a nonprofit with a name as goofy as its mission. Humans2Venus' goal is to "[explore] Venus as a potential long-term destination for humanity" and "create the largest global community of general and professional Venus enthusiasts" through email newsletters, blog posts, conferences, and a YouTube channel. Insider reports that OceanGate was only a stepping stone for Söhnlein, who is interested in pushing humanity past the boundary of Earth.
"I think it is less aspirational than putting a million people on the Martian surface by 2050," Söhnlein told the outlet, taking a dig at Elon Musk's hare-brained plot to send a million people to Mars.
OceanGate made headlines across the world this past June after five passengers, including the company's CEO Stockton Rush, disappeared in the North Atlantic Ocean during a descent to the Titanic wreckage aboard the company's own Titan submersible. After several days of search and rescue efforts, it was revealed that the passengers immediately perished after the submersible's pressure hull was compromised, resulting in an incredibly fast implosion. In the aftermath of the tragedy, news coverage revealed Rush and OceanGate cutting costs, using cheap materials, and opting out of regulatory inspections in an effort to lower the price of traveling through the harsh temperatures and pressures of the deep ocean.