There's this weird sort of fervor that surrounds the MacBook Air that I've never fully understood. Sure, when Steve Jobs pulled the first one out of a manila envelope in 2008, it was cool as hell. But in the 10 years since then, Apple's once industry-leading laptop was neglected and abandoned to the point that it became a running joke.
But then, one day before Halloween 2018, Apple graced us with a "new" Air, and people acted like it was the computer equivalent of a flying car. What the hell. There isn't a single new thing on the entire device, and it starts a $1,200. So not only is the new MacBook Air not all that cheap, which was the only thing good about the previous MacBook Air in recent years, it's actually a computer Apple could have made years ago.
To prove my point, let's take a look at all of the revamped MacBook Air's "new" features. First, there's the MacBook Air's 13.3-inch 2560 x 1600 Retina display. Where have we seen that before? Oh right, it was introduced on the fourth-gen MacBook Pro in 2016.
Then there's that cool new Touch ID button. Except that too was something Apple introduced on the 2016 MacBook Pro. Same goes for those USB-C ports, the 2018 Air's shallow butterfly keyboard, and its Force Touch trackpad. Even the "new" MacBook Air's aluminum wedge-shaped body is a rehash of a decade-old design.
G/O Media may get a commission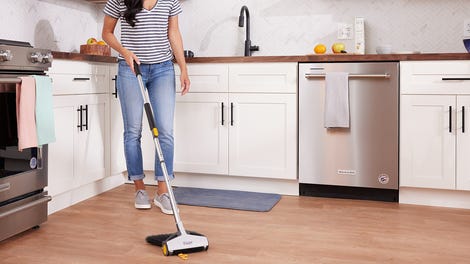 BOGO 50% Off
Flippr - BOGO 50% Off
Meanwhile, the T2 chip with its secure enclave is the same thing Apple put in the iMac Pro last year, which itself, is just an upgraded version of the T1 chip from 2016 and 2017 MBPs.
The newest thing on the entire system is probably the Air's Intel Core i5 CPU, which is certainly an improvement over the 5th-gen Intel chip Apple used previously. Still, it doesn't really count as new, it's just what Intel happens to be slinging out right now. Please note that the processor features just two cores and a base clock speed of 1.6GHz, so its performance isn't really going to blow your mind.
All told, the "new" MacBook Air is something Apple could have made last year or even in 2016. But it didn't, and we'll probably never know why. Instead, it made the 12-inch MacBook, which has seemingly also been forgotten about now that it's worse than the 2018 MacBook Air in almost every way.
When it comes to the 2018 MacBook Air, people shouldn't be happy Apple made a "new" MacBook Air. They should be pissed it took this long for it to come out, and even after all this time, it still isn't very innovative or all that affordable. This system is a remix of the same stuff Apple has been retreading for years. The Air moniker is just a name, it doesn't mean anything to Apple outside how much you'll pay to buy something with that word printed on it.