This past Sunday, the future touched my life in the form of a humble ring that logged my 5pm hangover nap. It's not exactly a flying car or a meal that fits inside a pill, but dammit, I've been charmed by this little finger Fitbit.
The Motiv Ring is an activity tracker that you wear on your finger. "I'm married to fitness!" my friend joked as she slid it onto her finger. That's the hope. Tech companies want you to believe that you should be quantifying your every living moment, and Motiv is no exception. It tracks the distance you've moved, steps, and calories burned, as well as active minutes, active heart rate, resting heart rate, and how long you slept for. The titanium band is waterproof down to about 165 feet and can go for about three days on one charge. The ring comes with two USB chargers, which which fully juice the device in about an hour and a half.
To its credit, the Motiv is unlike a number of other failing smart rings—Smarty Ring and Fin, for example—that have tried to capitalize on your phalanges. All of these promised you a world in which you wave your finger like a magic wand to perform all the things your phone can do. You would be shocked to learn that this promise has yet to be successfully fulfilled—doodling an envelope mid-air isn't more convenient or less conspicuous than clicking the envelope icon on your phone. Motiv isn't promising magic, it's just promising activity tracking in a smaller package. It's not groundbreaking in function, but as far as activity tracking goes, it's the most discreet.

But... it's still envisioning a future where fashion accessories get equipped with blinking battery lights and accelerometers so that you can less obtrusively quantify your life. Here's the problem with that—people don't buy rings for functionality, they serve only an aesthetic purpose. Watches have historically served a functional purpose—telling you the time—so capitalizing on that space for further functionality isn't out of the realm of comfort for many. That means the bar Motiv needs to clear for success is just a little higher than one for Fitbit.
G/O Media may get a commission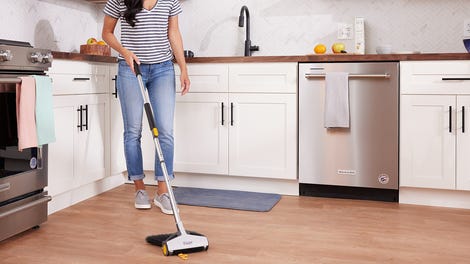 BOGO 50% Off
Flippr - BOGO 50% Off
But after a week with the Motiv I think there's potential for it to rival wristables for those who think that the current options cramp their style. Motiv might not offer the wealth of activity tracking data Fitbit does, but what it lacks in exhaustive data it makes up for in design—a front on which Fitbit's has struggled. If Motiv can provide more comprehensive data in future iterations, the finger may pose a serious threat to the wrist.
As far as getting set up with Motiv goes, it is relatively easy. The company will first send you a ring sizing kit. Once you let Motiv know your size, it will ship your ring in your color of choice. It comes in Rose Gold and Slate Gray. You'll then sync up your ring with your iOS device via Bluetooth (there is no Android app) and you're ready to go.
The app prioritizes active minutes rather than just steps, meaning it's more difficult to con your device into believing that shaking your wrist while binging Netflix on the couch was actually a sprightly jaunt around the block. Active minutes are tracked by looking at both your activity as well as your elevated heart rate. Motiv notes that it can personalize your active minutes threshold by measuring your resting heart rate at night. The app breaks down your activity by day, spotlighting your active minutes at the top. It then shows how many steps you have taken, how many miles that adds up to, and how many calories you burned. Below that, there are activity cards that break down each window of active minutes walked as well as a card for time slept and a card showing you your resting heart rate.

As to whether you can gain an accurate measurement of heart rate through optical means from the base of the finger compared to that of the wrist, Motiv noted that finding the right size ring is important in getting the right data, and that "the lighter part of your palm" also helps in collecting it.  I went for a jog with both the Motiv Ring and a Samsung Gear Fit 2 and the heart rate results were nearly identical.
The Motiv Ring lasts three days on a charge, and by that third day I'd learned that I don't get enough sleep, and that when I spend my weekend hungover, I also don't get enough active steps. I also learned that seeing my poor life decisions laid out in a well-designed app did not inspire me to haul my ass out of bed and go for a run.
My friends turned out to be a great fashion focus group. The verdict? They liked it! I had three separate people compliment the device, asking me where I got my ring. They couldn't tell it was smart, and when I told them it was and showed them the glowing light inside, they were genuinely surprised. "But I would wear this if it were dumb" was a common response.

But it's not perfect. I've had the ring for under a week, and it is already showing some wear. One evening, the ring wouldn't stop blinking green, and I decided take it off instead of trying to sleep with a green finger orb. It stopped blinking by morning and hasn't glitched out like that since. The price is also going to be a dealbreaker for a lot of people. At $200, you could buy three Fitbit Flex bands. It's also about $50 shy of the starting price for an Apple Watch. But it's hard to deny the potential the Motiv Ring shows— that you can design a wearable that you'll actually want to wear even if it was dumb as bricks.
README
Spotlighting active minutes over just steps is better for your heart

In the wearables space, this ring is a babe among clunky eyesores—but it is not scratch-proof
Currently, it's not available for Android
But it's still too expensive for an activity tracker that doesn't afford more data or functionality than its (yes, more ugly) competitors