Earlier this month, news broke that the Pentagon had secretly run a $22 million program to investigate unidentified flying objects—and obtained evidence including footage of Navy F/A-18 pilots chasing a strange craft off the coast of San Diego in 2004 and an alleged warehouse of mysterious "alloys." To this list of evidence we can add the considerably less compelling testimony of The Shape of Water director Guillermo del Toro, who this week told the Hollywood Reporter he saw a "crappy" UFO when he was younger.

No, really, del Toro says he saw a UFO while drinking beer with a friend on a mountain near Guadalajara, Mexico, and that the thing basically looked like it was strung up with string and made out of cardboard.
"It's so sad," Del Toro said. "I wish I could reveal they're not what you think they are. They are what you think they are."
I know this is horrible. You sound like a complete lunatic, but I saw a UFO. I didn't want to see a UFO. It was horribly designed. I was with a friend. We bought a six-pack. We didn't consume it, and there was a place called Cerro del Cuatro, "Mountain of the Four," on the periphery of Guadalajara. We said, 'Let's go to the highway.' We sit down to watch the stars and have the beer and talk. We were the only guys by the freeway. And we saw a light on the horizon going super-fast, not linear. And I said, 'Honk and flash the lights.' And we started honking.

Went from 1,000 meters away [to much closer] in less than a second—and it was so crappy. It was a flying saucer, so clichéd, with lights [blinking]. It's so sad: I wish I could reveal they're not what you think they are. They are what you think they are. And the fear we felt was so primal. I have never been that scared in my life. We jumped in the car, drove really fast. It was following us, and then I looked back and it was gone
There's always a rational explanation for this kind of phenomena, so here's a few guesses:
Somebody threw a frisbee with a flashlight duct taped to it at him
An eagle got tangled in Christmas lights and just wanted help
Well, the Soviets weren't exactly known for their creativity
Aliens are real, and their ships just look like absolute hackneyed garbage (or who or whatever is flying them wants us not to believe del Toro)
G/O Media may get a commission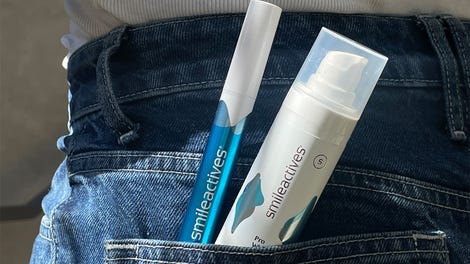 58% off
Whitening Powerhouse Pen & Gel Duo
Del Toro also told the Reporter that he has seen ghosts twice, and frankly, I'm getting pretty jealous here. Stop hogging all the mysterious phenomena for yourself!