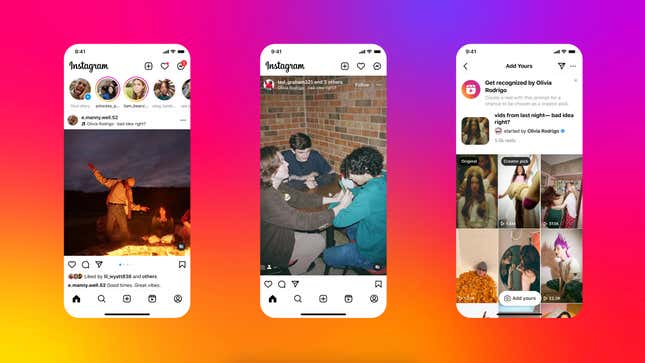 Capitalism may breed innovation, but Instagram is no stranger to ripping off TikTok. The social network's newest feature is a rotating carousel of images set to music, delightfully similar to TikTok's own.

Nobody's Really Watching Reels
Instagram tapped zoomer singer-songwriter Olivia Rodrigo to use the feature to promote her new song "bad idea right?" on her profile, and announced the feature in a subsequent press release. Rodrigo's post includes an audio clip of the song atop a slideshow of photos taken on the set of the music video. The feature is so far only available on mobile. Instagram has allowed users to post photo dumps via carousel since 2017, while TikTok's slideshow feature was unveiled in September 2022. The key component Instagram seems to have lifted from its competitor is the addition of a song, already allowed on individual photos. Now you can soundtrack up to 10 photos.
The new music carousel isn't the only feature that Instagram is releasing today. The platform is now increasing how many people can collaborate on a post or Reel after initially releasing joint posts with one other user in 2021. According to the company, users can now invite up to three collaborators to a post or Reel, which will appear on all associated accounts' grids—even if they're private. Instagram also announced that it would be expanding access to its music library to more countries, and also revealed a collaboration with Spotify in Mexico and Brazil to feature the 50 most popular songs used on Reels on a rotating "Reels Music Chart" playlist on the music streaming platform.
Instagram and TikTok have a long history of competing with each other. Most notably, Instagram Reels debuted in August 2020 as an attempt to beat out TikTok, which saw a huge rise in its user base with the onset of the covid-19 pandemic and lockdowns just a few short months earlier. and TikTok CEO Kevin Mayer said in a blog, as quoted by Variety: "At TikTok we welcome competition… To those who wish to launch competitive products, we say bring it on."