Disney and Pixar just revealed the key characters and voices for their upcoming, highly anticipated sequel to The Incredibles. Most of them are the returning stars, but there are some heavyweights in new roles—and, unless Disney is playing more coy than usual, one of them is playing the movie's villain. But who?
Along with the Parr family, Frozone, and Edna Mode, here are the new characters that were announced, as well as the actors voicing them:
WINSTON DEAVOR (voice of Bob Odenkirk) leads a world-class telecommunications company alongside his genius sister, Evelyn. Ultra-wealthy, savvy and suave, Winston goes big in everything he does—including his infatuation with Supers. He has been a supporter of Supers returning—all he needs is a hero (or three) to help him change public perception and bring them back into the sunlight.
EVELYN DEAVOR (voice of Catherine Keener), the brilliant brainchild behind her brother Winston's telecommunications company, knows her way around tech. She loves tinkering with tech, and has never met a problem she can't solve.

VOYD (voice of Sophia Bush) is a young, overeager "wannabe" Super and a mega-fan of Elastigirl. Her superpower is the ability to divert and manipulate objects around her by creating voids that allow the objects to appear and disappear, and shift in space.
The Supers find an advocate in a dignified foreign AMBASSADOR (voice of Isabella Rossellini) who is committed to the support and legalization of Superheroes.
The plot of the movie, so far as we can gather, is that after the events of the first movie, a bunch of people, including a company lead by the Deavors, have been trying to make Supers legal again. To aid with that, they recruit Elastigirl (Holly Hunter) to be their kind of spokesperson. That leaves Bob, a.k.a. Mr. Incredible (Craig T. Nelson), to watch over the rest of the family. Then "when a new villain hatches a brilliant and dangerous plot, the family and Frozone (Samuel L. Jackson) must find a way to work together again—which is easier said than done, even when they're all Incredible."
The press release is clearly careful not to reveal many specifics beyond these surface roles, but it seems like you wouldn't cast Bob Odenkirk (Better Call Saul) and Catherine Keener (Get Out) as the voices of an ultra-rich couple without one of them being the film's villain... or at least being attached to the film's villain in some way. Isabella Rossellini (Blue Velvet) also can play quite ominous. Then, Jonathan Banks (Better Call Saul too) has taken over the role of Rick Dicker (yes, that's the character's name), head of the Super Relocation Program. The character appeared in the last film, but was voiced by Bud Luckey. The change could, potentially, also be a clue.
G/O Media may get a commission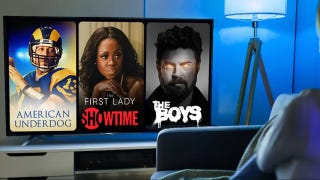 UNDER $1
99¢ Prime Video Channels
Here are the photos of those new characters which, again, reveal nothing, but are cool to look at.
If I had to guess, Evelyn's attraction to technology gives off a decided Syndrome vibe, so I think she's probably bad in some way. But no matter who the villain is, this is a pretty impressive group of actors who are joining the cast of the near-perfect original movie.
Incredibles 2 (no "The") opens June 15.
[Facebook]