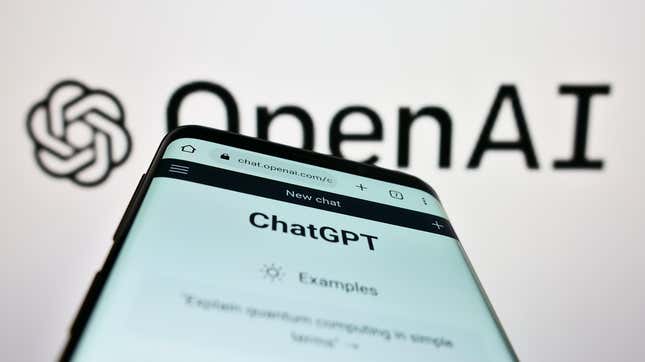 As AI hysteria continues to pick up steam, OpenAI seems to be feeling the heat from its competitors. After appealing to the U.S. Patent and Trademark Office to speed up the process of trademarking "GPT," the office denied the company's request just last week.

Netflix Passwords, ChatGPT Can't Detect AI, and No More CoTweets | Editor Picks
As TechCrunch points out, OpenAI applied in December to trademark the "GPT" in the company's own ChatGPT, which stands for "Generative Pre-trained Transformer." Last month, OpenAI asked the USPTO to hasten the process of trademarking the acronym, perhaps wanting to secure its brand after a barrage of GPT clones have been announced or launched, including a chatbot from Elon Musk called "TruthGPT." Unfortunately for OpenAI, the patent direction dismissed the company's petition last week, forcing OpenAI to wait out the process just like the rest of us.
OpenAI and the U.S. Patent and Trademark Office did not immediately return Gizmodo's request for comment.
Jefferson Scher, an attorney and chair of intellectual property group Carr & Ferrell's trademark practice group, told TechCrunch that the trademarking process could now force OpenAI to wait another five months. However, Scher said there could be a light at the end of the tunnel for OpenAI. He explained to the outlet that it's highly likely that OpenAI will receive the trademark in due time, despite the T standing for "Transformer," which is the same name as a neural network that Google announced in 2017. Nevertheless, OpenAI persisted.
In the time since ChatGPT was revealed last fall, the chatbot has seen widespread virality for better or for worse. New research from Stanford University and Massachusetts Institute of Technology has found that 14% of employees that used ChatGPT in their workflow saw an increase in productivity—with the least experienced and least skilled workers completing tasks 35% faster. At the same time, OpenAI CEO Sam Altman revealed earlier this month that the company is not releasing ChatGPT-5 anytime soon.
Want to know more about AI, chatbots, and the future of machine learning? Check out our full coverage of artificial intelligence, or browse our guides to The Best Free AI Art Generators, The Best ChatGPT Alternatives, and Everything We Know About OpenAI's ChatGPT.