They're in charge of keeping an eye on the entire planet with the most advanced imaging technology in the world, and they have an estimated annual budget of at least $5 billion. But right now they have a position for a sign language interpreter that they're not allowed to fill. Why? Because Donald Trump's federal hiring freeze is arbitrarily leaving thousands of job vacancies across the US government.

The National Geospatial-Intelligence Agency (NGA) is tasked with providing the nation's intelligence and military communities with an eye in the sky. Or many eyes in the sky, as it were. Most of the work they do is classified and an unknown number of positions at NGA have been deemed exempt from the federal hiring freeze.
But based on documents provided to Gizmodo through a Freedom of Information Act (FOIA) request, we now know there are currently 81 vacant jobs at NGA that would be going to Americans if Trump lifted his ban on hiring federal employees.
As we previously reported, this hiring freeze, one of Trump's first acts upon taking office, is touching every agency and leaving American jobs vacant for no good reason. From NASA to the Patent and Trademark Office, jobs that would otherwise be available for hardworking Americans are sitting empty.
Whatever you think of the NGA (and there's plenty to be concerned about, given the secrecy surrounding the agency), it's plainly ridiculous that it isn't allowed to hire everything from an HR Specialist to a sign language interpreter. Again, this agency has an annual budget believed to hover around $5 billion (the official number is classified), and the president is arbitrarily slashing dozens of jobs.
G/O Media may get a commission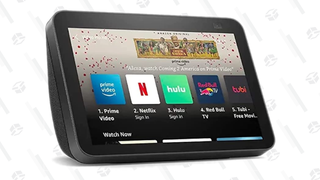 Below we have the complete list of 81 positions that were "tagged as non-exempt" from the hiring freeze, according to NGA. As the freeze continues, this list is expected to grow.
Contract Specialist (17)

Business Analytics Officer (13)

Career Service Specialist (6)

Knowledge Curator (5)

GEOINT Capabilities Integration Officer (4)

Executive Officer (3)

Information Management Officer (3)

HR Specialist (Employee Relations) (3)

Instructional Systems Designer (3)

Data Management Specialist (2)

Staff Officer (Business Administration) (2)

Information Technology (IT) Audit Specialist (2)

HR Specialist (Information Systems) (2)

Instructor (Imagery Analysis) (2)

Training and Education Specialist (1)

Administrative Investigator (1)

Chief of Staff (1)

Inspector (1)

Ombudsman (1)

Policy Officer (1)

HR Specialist (Policy) (1)

Drug Program Coordinator (1)

Sign Language Interpreter (1)

EEO/Diversity Associate (1)

Instructor (GEOINT) (1)

Instructor (Geospatial Analysis) (1)

Instructor (Source) (1)

Manpower & Force Management Analyst (1)

I don't know what a "Knowledge Curator" is, but apparently the NGA needs five of them right now. And if that's the job where someone connects the dots to warn us when nukes are heading to Seattle and then the city becomes a hole in the ground because we had five too few Knowledge Curators, I'm going to be pretty pissed.
Gizmodo has reached out to NGA about the federal hiring freeze and will update this post when we hear back.