Ah February, the month of romance and nightmarish sex injuries. But if you want to skip the chocolate mousse and hospital bills this year, you might think about giving your Valentine a gadget. Here's the best of the past month (or so):
---
In:
Best Windows Ultraportable
The Samsung Series 9 is our favorite, least MacBook-like ultaportable laptop out right now. More than the MacBook Air or the Zenbook, this is the one that people perk up and ask about when they see it. It's got a wonderful matte screen, a very usable trackpad, and a solid keyboard. Just beware: There's a new wave of ultraportables coming this year that promises to be really, really good.
G/O Media may get a commission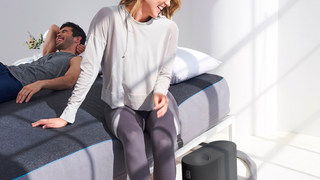 Eight Sleep Pod Cover
---
Best Android Tablet
If you know you want an Android tablet, the Transformer Prime is the one to buy. It's the best constructed, fastest Android tablet out there. The only people who should hesitate are those who don't want to be confined to Wi-Fi.
---
Best Affordable Pro Compact Camera
Simply stated, the NEX-C3 performs much better than the other cameras in its class in nearly every situation. It's better, and, yup, bigger and heavier. The 18-55mm kit lens isn't collapsable, so this camera is never going to fit in your pocket, and while taking a quick shot in auto is easy enough, you're going to want to spend some time learning the menus, and programming the camera's customizable buttons to get the most out of it. In terms of image quality, the 16.2 megapixel, 23. 4mm x 15.6mm sensor blows the rest of the cameras in its price range away. It's not even close.
---
Best eReader
This one's an about-face. We loved the Nook Simple Touch from the time we laid eyes on it, but the Kindle Touch's amassment of features swayed us. After extended day-to-day use, though, smaller software features melted away and the superior reading and use experience of the Nook won out.
---
Best Urban Winter Jacket
Brent didn't think he was going to like a jacket called the Mountain Hardware "Downtown Coat". It sounded pretentious and he didn't think it would hack it. Turned out to be love at first wearing. It's a thigh-length coat that provides ample booty-warmth. It has the Best. Pockets. Ever. Overall, this is definitely your winner. Grab-n'-go winter goodness.
---
Best iPod Dock
The Octiv 650 nails a near perfect harmony between sound quality, easiness, and price with a few unique features to boot. If speaker docks are unremarkable almost by definition, the Octiv 650 is a shooting star.
---
Out:
Best iPod Dock: Bye $600 Bowers and Wilkins Zeppelin iPod dock.
Best Windows Ultraportable: See ya, Sony Vaio Z. You're a tiny slice of wonderful, but too brain-breakingly expensive.
Best Galaxy Tab 10.1: Can't compete with quad-core.