Switching out an old-school spinning disk to a modern SSD is by far the best hardware upgrade you can do. Shopping for a good SSD price might seem simple —"you just divide the storage space by the price" — but there's actually a lot of nuance to getting the right SSD. You want one with fast benchmark speeds and fast real world speeds, and it wouldn't hurt if the maker had a reputation for reliability. For the vast majority of intrepid upgraders, Samsung's 840 line is the obvious pick. Maximum PC's Josh Norem wrote about the Samsung 840 Pro back in September:
Samsung brings considerable resources to bear as the world's largest manufacturer of flash memory, and it has quite a stellar track record in this market, as well... Unlike Corsair and other vendors that must purchase drive controllers from a third party and then tweak them to fit the flash memory that was also purchased from a third party, Samsung builds its own controllers from scratch. It also builds its own NAND flash. And its own DRAM. So the entire package is 100 percent made by Samsung... In our 32-command-queue tests, the Samsung also trumped the Neutron GTX but lost big-time to the SandForce-based drives, as they are simply head and shoulders above everyone right now. These were the only tests in which the Samsung failed to set a new record.
That's a strong recommendation. Amazon's got a pretty awesome sale on the Samsung 840 right now: they're offering the 250GB model for $150 shipped, which comes out to $0.60 a GB. Mind you — this isn't the "Pro" model, but most home users won't notice the difference and in Tom's Hardware benchmark the 840 "vanilla" was second only to the 840 Pro. Pretty great sale, and they probably won't be at this price for much longer. [Amazon]
Update 4:35PM: Amazon's sold out. Now it's a third-party selling them for $170.
Update 4:48PM: Commenter Jayson points out that Newegg's got the 250GB Samsung 840 for $150 with the code 72SALE9.
---
Dealzmodo's Twitter will save you money: Follow @dealzmodo

If you find an interesting sale online, send it to the Dealzmodo mailbag.

---
A Totally Spoiler-Free Recommendation for Possibly The Greatest RPG Ever
G/O Media may get a commission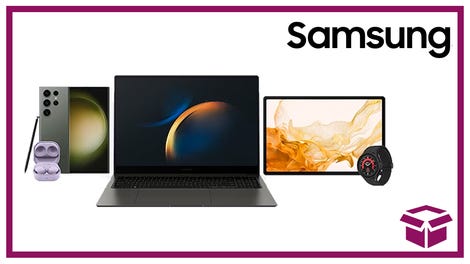 24 hour deals
Discover Samsung - Daily Deal
Barrett has the mouth of a nun, Cloud's not really a SOLDIER, mako isn't a metaphor for peak oil, and absolutely no characters you deeply care about die. If you didn't understand that, you've got to play Final Fantasy VII. SquareEnix is selling it for the PC for $6 today, which is half off the normal price. [SquareEnix]
Can't get enough Final Fantasy? Final Fantasy I and II are on sale for iOS. Also, Jason Schreier over at Kotaku ranked them all — and slotted Final Fantasy VII 4th. Blasphemy.
---
Accessories
• 8GB Sandisk Cruzer Flash Drive in Crazy Colors ($5) | Best Buy via Reddit | Originally $12
• 16 AA Batteries + Eight AAA Batteries + 2 9-volt Batteries ($11) | Nothing But Software via Dealmac | Originally $20
• 64GB Centon DataStick Flash Drive ($40) | Tiger Direct via Reddit | Originally $50
• 16GB Kingston DataTraveler Flash Drive ($10) | Amazon via Reddit | Originally $15
• Core i7 3770K Processor ($230) | Micro Center via Hard Forum | Originally $320 | In-store only | $100 less than Amazon and currently the preferred Hackintosh processor
---
Miscellaneous
• .com Domain Name from GoDaddy ($1) | GoDaddy via Edealinfo | Originally $10 | Use coupon code gofac111
• Zippo Chrome Metal Lighter ($9.57) | Amazon via Reddit | Originally $15
• LEGO Darth Vader Desk Lamp ($40) | Groupon via Brand Name Coupons | Originally $60 | OOS in many places
• Nesco Food Dehydrator ($60) | Amazon via Reddit | Originally $80
• Wagan 200W Jumper Cables + Battery Power Dome ($80) | Sierra Trading Post via Logicbuy | Originally $100
• Portal Gun Replica ($111) | Amazon via Reddit | Originally $120 | Not a huge discount, but back in stock
• Nature's Sleep Memory-Foam Mattress ($340) | Living Social via Reddit | Originally $700-$1100 | Pretty awesome deal, you can even get king size | Use coupon code SAVE5
• $5 off Living Social | Living Social via Ben's Bargains | Use coupon code SAVE5
---
Apple
• Used 4th Generation iPod Nano 8GB ($48) | Cowboom via 9to5Toys | Originally $70
• The Apple Store just got some new refurbished Mac Pro stock.
---
Last Week's Noise-Canceling Headphone Deal of the Day is Back
Last week we found Gizmodo's choice noise-cancelling headphones on sale over at BuyDig for $100 less than everywhere else. Of course, they sold out within two hours. Well, they're baaaaack! Who knows how long they'll last this time. [BuyDig]
Edit: BuyDig won't tell you the price until you get through the entire checkout process. They're $200, and Amazon's still selling them for $300.
---
Audio
B&H has a good deal on Audio-Technica's entry-level cheap sealed headphone, the ATH-M30. These cans don't feature super-accurate reproduction like the ATH-M50, but they're comfortable and an awesome choice for a pair of office headphones or a backup pair of cans. B&H is selling them for $39 shipped, and they're usually $50 and up in stores. And yes, they are the headphones Grimes is wearing in the video for Oblivion. [B&H]
• Klipsch Reference S4 ($42) | World Wide Stereo via Slickdeals | Originally $55
• Numark Studio Monitor Speakers ($75) | Amazon via Reddit | Originally $90
---
Gaming
• Plentiful Paradox Package ($10) | Amazon via Reddit | Originally $40
• EA Burning Hot Bundle ($12) | Amazon via Reddit | Originally $39
• Gears of War 3 for Xbox ($14.21) | Amazon via Reddit | Originally $30
• Fallout: New Vegas Ultimate for PS3 ($21) | Amazon via Reddit | Originally $30
• Call of Duty: Black Ops ($45) | Amazon via Brand Name Coupons | Originally $60 | For the consoles
• Xbox 360 Essentials Pack + Doom 3 ($50) | Newegg via Logicbuy | Originally $60 | Another $10 off if you tip it over $50, the controller is great even if you don't have an Xbox

---
Physical Media
• Finding Nemo on Blu-ray ($16.29) | Amazon via Brand Name Coupons | Originally $25
• Lord of the Rings Trilogy on Blu-ray ($40) | Fry's via Hard Forum | Originally $60+
---
Clothing
I didn't even know they made Spanx for men. Apparently, nobody else did and they didn't sell any, because Spanx is clearing out a whole bunch of stuff on Ebay. You've got three different shirts that'll shape/hide/affect your beer gut — choose whether you want a crew neck Spanx shirt, or a v-neck, or a tank top. These modern girdles will run you $30. [Spanx via Ebay]
• Factory Tweed Sport Coat ($65) | J. Crew Factory via Reddit | Originally $150 | Use coupon code MOREPLEASE
• Spanx For Men on Ebay ($30) | Spanx via Ebay via Dealnews
---
Dumb TV → Smart TV
• TiVo Premier DVR ($100) | Amazon via Logicbuy | Originally $150
---
Laptops
• 15" Dell Inspiron with Radeon 7730M + 1080p Screen + Core i7 ($747) | Dell via Hard Forum | Originally $1000 | Use coupon code J9ZR64?V1WQ2S0
• Toshiba Portege with Core i3 +128GB SSD + Magnesium Alloy Construction ($780) | Toshiba via Logicbuy | Originally $900
---
Desktops
None here. Go home.
---
Tablets
"Wala na."
---
Screens
• 24" Acer 1080p LED Monitor ($120) | Newegg via Dealmac | Originally $160
• 65" Panasonic 3D Plasma TV TC-P65GT50 ($2200) | Amazon via Reddit | Originally $2500
---
Portables
• Galaxy S III Free w/ 2-Year Contract on Sprint ($0) | Amazon via Brand Name Coupons | Originally $100 | Weirdly still $100 for non-new customers
---
Camera
Nope.
---
Bare Drives
• 1TB Seagate Barracuda Bare Drive ($73.51) | Amazon via Reddit | Originally $80
---
Apps
Not that you really need these apps since Google Maps came back to the iPhone, but Dealzmodo would be remiss to omit the fact that Garmin's having a pretty big sale on their navigation apps. Streetpilot USA is down to $33 from $50, and Navigon USA's got the same discount.
iOS
• Runtastic PRO ($0) | iTunes via Best App Sales | Originally $5
• CityMaps2Go ($0) | iTunes via Best App Sales | Originally $2
• Menuish ($0) | iTunes via Menuish | Originally $1
iPad Only
• Star Walk Astronomy Guide ($1) | iTunes via Best App Sales | Originally $5
Android
• Traktor Digger ($0) | Amazon Appstore via Brand Name Coupons | Originally $1
---
Mac
• Gemini De-Duper ($5) | Mac App Store via Best App Sales | Originally $10
Windows
• Got an .edu Email Address? Microsoft Office for ($10) | Microsoft via Hard Forum | Originally $100+
• PCBundler including Breevy and Teracopy ($25) | PCBundler via Lifehacker | Originally $100
---
Hobomodo
• Free IHOP Pancakes on 2/5/13 ($0) | IHOP via Reddit | Originally $3 | Wait in shitshow lines for a few free pancakes! We'll remind you on the day of.
• Free Feather Stylus ($0) | Dealfisher via Dealfisher via Reddit | Originally $1