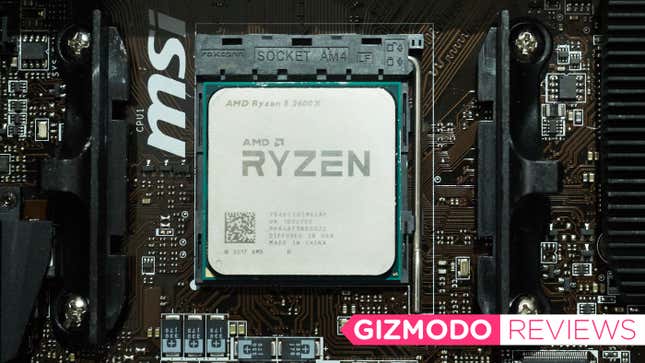 Last year AMD finally gave us something we desperately needed with the release of Ryzen: A viable rival to Intel in the CPU space. The rivalry has meant faster CPUs for desktops and laptops as each company races to surpass the other, but there's a potential problem for AMD. It doesn't have the same track record for improved performance as Intel. In the past it's stumbled, barely keeping pace with its larger competitor. If competition is going to be sustained—if we're going to have long term competition that drives down prices and puts faster chips in our computers, than even a minor architecture change from AMD needs to have big and speedy results. The second generation of Ryzen does.
Twitter Is Shifting Right | Future Tech
As with the first generation Ryzen—and really any new launch of a CPU microarchitecture, the second generation of Ryzen will come in waves. First will be the desktop CPUs destined for the big beefy computers of gamers, streamers, and those working in video or 3D rendering. Later AMD will launch mobile and desktop APUs, which should include a built-in graphics card. This Ryzen 5 2600X and the current line up of second generation Ryzen CPUs do not include GPUs, unlike their Intel counterparts. AMD is hoping you already have your own GPU or you have plans to buy one. It's a bummer for budget builders, who will need to wait for an AMD APU. The first generation Ryzen APU only came two months ago. That is a long time to wait for a CPU with a GPU built in—even if that AMD APU had impressive graphics capabilities.
It also means this is second generation CPU is strictly for enthusiasts. If the enthusiast already has their GPU picked out they'll be able to pick up the Ryzen 5 2600X for just $200, and get 6 cores capable of running 12 threads simultaneously—which should be great for thread reliant tasks like processing videos or rendering 3D objects in blender or in games. The Ryzen 5 2600X's rival, the i5-8600K, which was released in October of 2017, costs a whole $50 more for the same 6 cores and 6 threads. The big difference is an included, paltry, GPU, and a higher built in clockrate.
So you're probably wondering how Ryzen could be worth it. Where the second generation of Ryzen really distinguishes itself is in the size of its processes. The original Ryzen CPUs were based on the Zen microarchitecture, which, along with Intel's current Coffee Lake architecture are based on a 14nm process, which means the size of the wafer of silicon the chip comes on. The second generation of Ryzen is operating on the Zen+ architecture and the key difference is that it's a 12nm process. In the CPU architecture world a smaller process means, theoretically, shorter distances for data to travel, and that usually translates to less power used higher speeds. So even though the Ryzen 5 2600X has a lower clockrate than its Intel rival, its smaller process could theoretically make it faster.
And that actually bares out for the most part. We ran the Ryzen 5 2600X through the same tests as the i5-8600K and last generation's Ryzen 5 2400G. All used the same RAM, storage, and Nvidia 1080 graphics card. The 2600X is always faster than the 2400G and generally faster than the i5-8600K. There are occasions when it's slower than Intel's current generation offering though. Specifically in WebXPRT 2015, an online benchmark that is intended to replicate your day to day activities in a browser. The second generation Ryzen CPU was nearly 20-percent slower than Intel's 8th-Gen processor. And in Geekbench 4, a synthetic benchmark that tests both the CPU as a whole and each individual core, the Intel CPU had a better single core score, while the AMD chip just barely squeaked by with a superior multi-core score.
Yet both WebXPRT 2015 and Geekbench 4 are synthetic benchmarks. They're helpful in the sense that they quantify "this goes fast" and give a CPU owner bragging rights, but they're not the same thing as real world experience. Either CPU is going to give you an exceptional experience while browsing the internet or firing off an email. What really matters are the real world benchmarks.

To that end there are two kind of real world benchmarks we performed: Benchmarks for games and benchmarks for professional apps. In the case of games we were genuinely surprised. Before testing this CPU AMD told Gizmodo and other reporters at a briefing that its chips would eke out gaming performance close to Intel's but that it would rarely surpass it. Yet in both of the games we tested, Civilization VI and Rise of the Tomb Raider, the AMD CPU actually did just a little bit better! As you can see in the chart above, the scores were extremely close.
What wasn't negligible is the Ryzen 5 2600X's performance in professional apps. There is no question there. The AMD chip blows Intel's CPU away. It transcoded the same 4K video in Handbrake a full minute and 32 seconds faster than the i5-8600K, in Blender, it rendered the same file four and 29 seconds faster, and in our Photoshop test, where we process a series of RAW images and convert them to JPEG, it finished a full second faster. In fact its performance across all three tests actually bumped up against that of the i7-8700K, a CPU that costs $150 more.

So AMD's second generation of Ryzen CPUs isn't just cheaper than the comparable CPU from Intel, it continues to be much faster when it comes to intense workflows in the video and 3D rendering space, and actually close to on par with Intel in the gaming space too. AMD also promises to keep CPU upgrade costs down. Both generations of Ryzen use motherboards with the AM4 socket, and AMD has assured Gizmodo that this will be the socket used for the next few generations as well. Which means you can buy a motherboard now and not have to upgrade it for years.
So if you have last generation's Ryzen processor in your computer it might be worth considering dropping $200 for the upgrade, and if you've been thinking of making the switch from Intel to AMD, and already have your own graphics card picked out, then this is a great option. It's also proof that AMD's first generation of Ryzen processors wasn't a fluke. It really is building CPUs that are every bit as fast, and often faster, than what Intel is making. More importantly AMD is putting out this speedy silicon for a lot less than Intel. But it still has a ways to go. While AMD CPUs are cropping up in desktops from major computer makers like Dell it still isn't found in a lot of laptops, or budget desktops. For now AMD CPUs are best left to people who need the power for making videos or working on their 3D rendering projects. But if AMD can start putting this kind of power in a wide range of laptops or cheaper desktops, then Intel might want to worry.
README
AMD's second generation of Ryzen is faster than the first generation—and faster than Intel's current offering too.
It especially excels in high intensity workflows like video transcoding and 3D rendering.
Intel still does a better job with gaming, but only by a hair.
This is also the first commercially available 12nm desktop processor.
No, 2nd-Gen Ryzen does not have a Spectre solution built into the hardware. You'll need to wait for the move to the 10nm process for that.
It also doesn't have its own GPU. You'll need to bring your own.
Correction: This piece originally suggested that the i5-8600K has 12 threads. It has 6. We regret the error.