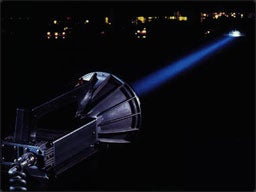 Of all the bombs, bullets, blasts and booms that have been paralyzing you with fear, now there's a paralyzing spotlight to add to that grim list. The U.S. Army has figured out a way to use a 7.5 million candlepower beam of light to put the serious hurt on you without killing you, shining an extremely bright, strobing xenon-based searchlight on you until you faint like a goat. White-hot spotlight indeed.
Fainting goats? Jump to see how goats faint, simulating the effects of such an awesome yet non-lethal spotlight weapon.
Maybe the army could start up some research on a monster umbrella system, making all those poor souls in the vicinity pass out when it's opened.
To be manufactured by Pennsylvania-based Peak Systems, the Army expects live demonstrations of its paralyzing spotlight within 12 months. Any volunteers?
New Robo-Weapon: Paralyzing Floodlight [Danger Room] Good luck, Noah S.!