It's been nearly six months since the Environmental Protection Agency unceremoniously axed its climate change webpages under the auspices of updating the site to reflect the Trump administration's priorities.

Given that the administration has proposed backing out of the Paris Agreement and has rolled back a slew of Obama-era climate regulations, you'd be forgiven for thinking the climate pages were never coming back.
But, surprise! Some are back, according to a new analysis released on Friday. There's just one problem. They don't mention climate change.
The slew of pages used to be housed under the moniker of "Climate and Energy Resources for State, Local and Tribal Governments." Now they're just labeled as energy resources and the URL domain has changed from "statelocalclimate" to "statelocalenergy." Many of the resources relating to climate and climate change are still MIA, as are a host of pages related to them.
G/O Media may get a commission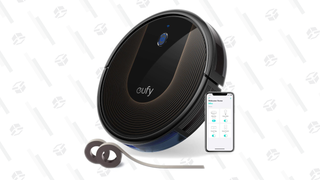 48% Off
Eufy BoostIQ RoboVac
Of the 380 URLs that used to be housed under the site, only 144 are live again under the new URL domain, according to an analysis by the Environmental Data and Governance Initiative (EDGI), a government watchdog that first spotted the pages.

Toly Rinberg, a researcher with EDGI, told Earther that some of those pages have been "islanded" so that they're live but not linked anywhere on the EPA site. There are also 47 new webpages in the mix.
"Large portions of climate resources that were formerly found on the previous website have not been returned, and thus have ultimately been removed from the current EPA website (though many of these resources can still be found in EPA archives)," EDGI said in a statement.
Among the pages totally wiped out are the State Climate and Energy Program, which included resources for states on how to address their greenhouse gas emissions, webinars, and a series of two-page briefs on climate change impacts specific to each state.

Not republishing these pages and removing climate-related information deprives the public and state, local, and tribal policymakers of resources that were once readily available. For tribes, which already have limited resources available, the loss of the information on those pages could be acutely felt.
While they're available on the Jan. 19 snapshot of the EPA's site, accessibility was an issue at one point. And it's possible it could be again, given the Trump administration's shoddy record keeping. Cities and nonprofits have also captured the pre-Trump EPA pages, in a testament to how important the information on the site is to a variety of institutions.
"It's always surprising when missing information, webpages, [and] documents come back, but it's less surprising that the material comes back in altered, watered-down form with some things missing," Russ Kick, a writer who tracks the federal government at The Memory Hole, told Earther in an email. "It's like another recent occurrence: ICE pulled down all the documents (several hundred of them) from the FOIA section of its website for 'review.' They actually did repost them...except for all the documents on their controversial Secure Communities program."
The updated energy pages came came back in July, but the EPA has made no effort to publicize the restoration of this portion of its site. The EPA press office did not immediately respond for requests for comment about why the site was quietly rolled out with a new URL.

"It's insidious to scrub the term 'climate change' and the word 'climate,' while keeping the word 'energy,'" Kick said. "We're being shown that the agency's overriding focus is now on energy, not climate. Corporate generation of power is the goal. I guess the EPA's next logical step will be to rename itself the Energy Protection Agency."

It also follows a pattern of secrecy at the EPA. Administrator Scott Pruitt has had a soundproof room installed in his office with $25,000 of public money, required round-the-clock security, and refused to make his schedule public. Freedom of Information Act requests for his calendar have revealed a plethora of meetings with industries the EPA is supposed to be regulating.
It also fits a pattern of climate denial by Pruitt and other EPA political appointees (and basically all of the Trump administration for that matter). In addition to peddling climate denial, Pruitt has waged an all out war on carbon dioxide regulations, and been key to convincing Trump to announce he was pulling the U.S. out of the world's marquee climate agreement. He also wants to have deniers debate scientists about climate change, which is like having astronauts debate flat earthers on if the planet is really a sphere. Which is to say, it is a really fucking dumb idea.
Funny all that, coming from a guy who literally copied and pasted energy industry talking points onto official state letterhead when he was Oklahoma's Attorney General.