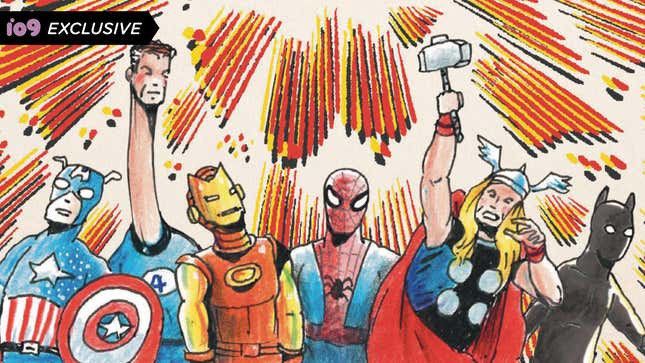 Mutts cartoonist Patrick McDonnell is has long sought to connect his own spiritual journey with the worlds that inspired him to become a comic artist in the first place—and while he got to do the former in Heart to Heart, a cartooning collaboration with the Dalai Lama, his next graphic novel comes at it from a more comic-booky angle, although no less spiritual.
io9 has an exclusive look at some of the early pages in McDonnell's new graphic novel from Abrams' MarvelArts imprint, The Super Hero's Journey. A philosophical and spiritual look back at the Silver Age comics heroes that inspired him, McDonnell's weaves his own path to cartooning by intersecting his own art and renditions of Marvel's classic heroes with the original, iconic artwork of their comics, as the likes of Stan Lee, Jack Kirby, and Steve Ditko's works weaves throughout McDonnell's history.
"I had just sent Heart To Heart, my collaboration with the Dalai Lama, off to the publisher when Abrams editor, Charles Kochman called. He had recently created the MarvelArts imprint with Alex Ross, and asked if I would like to do a book with the Marvel characters," McDonnell explained in a statement to io9. "For me, it was a boyhood dream come true, and The Super Hero's Journey became their second project in the series. My inspiration was the fun, energy and heart of the classic comics that I read as a kid; my graphic novel love letter to the wonderful creators and creations of the Marvel Universe."
"It begins with the Watcher quoting Teilhard de Chardin: 'The whole of life lies in the verb seeing.' Throughout, the Watcher asks us to open our eyes and heart to see the beauty right in front of us," McDonnell explained. "The book itself is a mash-up of my art with the legendary work of Stan Lee, Jack Kirby and Steve Ditko, and tells a new story told in a new way. It features the Fantastic Four, the Avengers, Spider-Man, the Black Panther and Doctor Doom, and centers on the Watcher and Mr. Fantastic who are on the spiritual journey of discovering the super being inside us all. As Stan Lee has said, it's "Possibly the most daring dramatic development in the field of contemporary literature!"
Click through to see more from McDonnell's book—The Super Hero's Journey is available to pre-order now at Abrams Books and Amazon ahead of its release later this month on September 26.