Getting the gamer in your life something was a heck of a lot easier when he was seven. A few Gameboy cartridges, a Nintendo Power shirt and—boom!—problem solved. But now he's 24 and has more gaming gear than you've got power tools. So here's what to get for your grown up gamer.
---
1. The Elder Scrolls V: Skyrim Collector's Edition
You don't just show up on the scene and win Game of the Year. Elder Scrolls V from perpetual powerhouse Bethesda Software earned that title through massive, immersive, and highly-addictive game play. $150 [Gamestop]
G/O Media may get a commission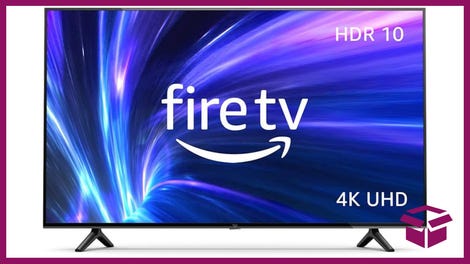 42% Off
Amazon Fire TV 50" 4K Smart TV
---
2. MSI GT683DXR-423US
Sure it's heavier than a desktop tower—and more powerful to boot—but can it play Crisis 2? Oh you betcha. It can also play Skyrim on Ultra Quality (that's a good thing). $1650 [MSI Mobile]
---
3. Turtle Beach Ear Force PX5
Your gamer isn't going to march to the top of the MW3 leader boards just by yelling at his TV. The PX5 enhances offers crystal-clear Dolby 7.1 Surround sound and programmable Bluetooth mic for barking out orders to his squad. $250 [Turtle Beach]
---
4. Gunnar Optiks Call Of Duty MW3: Gaming Eyewear
Youngsters can power through 14-hour gaming sessions without batting an eye. But in adulthood, those marathons can really take a toll on their sight. The Gunnar Optiks allow for longer sessions with less eye fatigue and better on-screen clarity. $100 [Gunnars]
---
5. Nyko Charge Base 3
Don't insult your gamer with a pack of AA's "for his controller" this holiday—so archaic!—get him the Nyko Charge Base 3. It runs through the PS3's USB port, juicing his spare controller while he plays. $25 [Nyko]
---
6. KEF T205 Surround Sound Speaker System
Sure the PX5's are sweet but you don't want your gamer getting swamp ear from keeping them on during a marathon session. Especially not when he can bask in the auditory awesomeness of the KEF T205. $2,000 [KEF Direct]
---
7. Skullcandy FIX Earbuds
Look, once the Vita drops in February, you likely won't see it out of your gamers hands until next Christmas but that doesn't mean you'll need to hear it until then. The Skullcandy Fix in-ear buds are designed to stay put no matter how much he shakes his head. $70 [Amazon]
---
8. Sharp 70-Inch Aquos LED Flatscreen
Just getting any old HD3D TV won't cut it this season. Blow your gamers socks off with the Sharp 70-inch Aquos. It's six-million-to-one contrast ratio and additional, yellow pixel allow it to produce trillions of possible colors. $2300 [Sharp]
---
9. Kinect Sensor with Kinect Adventures
If your gamer is still toeing the waters around the Kinect, give him a helpful push. With over 60 titles under its belt, this XBox accessory is really hitting its stride. $150
[Amazon]
---
10. Year-Long Xbox 360 Live Subscription Gold Card
Because it's either that or a "Sorry You Had Your Playstation Account Hacked—Again" sympathy card. $60 [Amazon]
---
Still haven't found the right present? Don't worry, we're here all month with a new gift guide every day—right up until the last minute. To see 'em all, head on over to #GiftGuide.