Injury lawyers have historically used catchy jingles and memorable slogans to entice recovering patients to secure their services. Now, the 20-second TV or radio spot might soon be replaced with ads sent directly to the phones of patients as they sit in emergency rooms.

NPR reports law firms specializing in personal injury are working with at least one digital marketing company to set up "geofences," virtual perimeters that can be used to connect ad technology with a cellphone's physical coordinates. Geofencing marketing is used to serve ads to people in small, specific geographical areas. In other cases, festivals or concert venues. In this case: hospitals. Marketer Bill Kakis told NPR that his company has geofenced "pretty much" every hospital in downstate New York and has now closed deals to advertise injury attorneys to people seeking medical care in the Philadelphia area.
Sending geofenced ads to hospital patients isn't illegal, NPR reports, as it doesn't violate HIPAA, which restricts how health data is accessed and shared. Social and advertising platforms often use location data: Gay dating app Grindr shows users where the nearest HIV testing center is, while Snapchat's geofilters offer users customizable stickers based on their location. Companies that get this data from wireless carriers are supposed to obtain consent from users, but one location data broker has recently come under fire for loopholes that allow cellphone owners to be tracked without their knowledge.

This isn't the first time geofencing marketing has been used on people seeking health services, either. In 2015, Boston-based Copley Advertising used geofencing to target "abortion-minded women" whose location data indicated they were likely in the waiting room of Planned Parenthood or other abortion-providing health centers. The ads included banners that read "Pregnancy Help," "You Have Choices," and "You're Not Alone," linking to pages that offered information on abortion alternatives. The Massachusetts Attorney General filed suit to force Copley to end the practice.
Until the rules governing location data are updated, the practice—however unsettling—will continue.
G/O Media may get a commission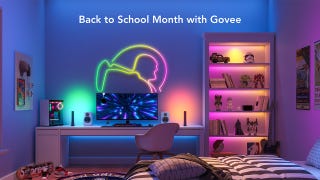 Back to School
Back to School Month with Govee Sale
[NPR]