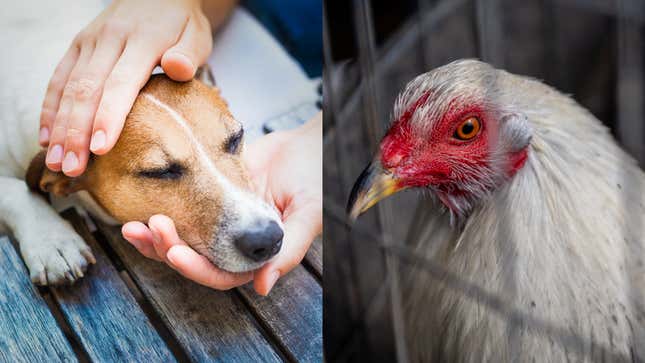 As a highly pathogenic variant of avian influenza continues to cause mass outbreaks and mortality in wild and domestic birds worldwide, another unfortunate animal casualty has emerged. A pet dog died of bird flu in Ontario, Canada this month, the country's public health and food inspection authorities confirmed in a Tuesday statement.

Mental Health Apps Are a Privacy Nightmare
The family pet tested positive for the virus on April 1, developed "clinical signs" of infection, and died shortly thereafter, the release said. A necropsy done on April 3 indicated trouble in the dog's respiratory system, officials noted. More testing is being done to determine the exact viral strain responsible for the dog's death.
To date and to the health agency's knowledge, "it is the only case of its kind in Canada," the statement said. However, pet cats and dogs have had documented infections with avian influenza before—though rarely.
In this case, the deceased canine is believed to have become sick after "chewing on a wild goose," per the press release. To protect pets, the Canadian government advises people to not feed their dogs or cats any raw poultry or other bird meat. Pets should also not be allowed to play with living or dead wild birds, the statement noted.
Beyond beloved pets, other mammals in the country have also fallen ill with avian influenza in recent months. Officials have confirmed bird flu infections in foxes, seals, dolphins, black bears, mink, raccoons, porpoises, and skunks across Canada.
This adds to the growing list of mammalian spillover cases popping up globally in this most recent spate of pathogenic bird flu spread. Prior to 2022, the variant of the avian virus was only rarely reported in mammals. Yet over the past year or so, an apparent change has occurred. "H5N1 [one bird flu variant] has spread widely in wild birds and poultry for 25 years, but the recent spillover to mammals needs to be monitored closely," the World Health Organization's director general said in a February briefing.
As a result, the WHO warned that bird flu could jump to humans, though it still assesses the risk to our species as "low."
Despite the recent dog death, authorities in Canada also still describe bird flu risk to people and pets as "low." Other health experts generally agree that, barring additional developments, bird flu isn't one of the most pressing threats to human health.
So far, in the ongoing U.S. outbreak, tens of millions of poultry have been affected, thousands of wild bird cases have been reported, and more than 150 instances of wild mammal infections have been detected, according to data from the Centers for Disease Control and Prevention. However, the agency says there was just one confirmed human case in 2022, in a person who worked with poultry. That person recovered from infection. Last month, Chile reported its first H5N1 human infection, and in February, an 11-year old girl in Cambodia died from the virus.