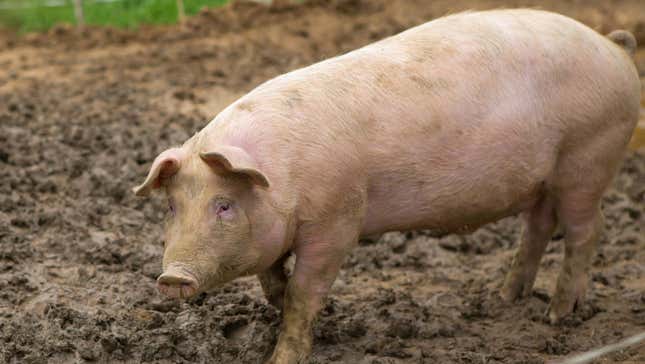 Surgeons at New York University have reportedly reached another milestone in making pig-to-human organ transplants a reality. They now claim to have transplanted a genetically engineered pig kidney that has survived inside a human body for six weeks and counting—the longest period yet. It's likely that larger clinical trials will be in the near future.
Taylor Lorenz Talks "Extremely Online"
The procedure was performed by a team from the NYU Langone Transplant Institute in mid-July. It's the fifth such animal-to-human transplant done by the team, with their first performed in September 2021. The organs are derived from pigs genetically modified by the company Revivicor to avoid the problem of rejection by a person's immune system. The recipients of these transplants so far have largely been people declared brain-dead, and whose bodies their families have allowed to be kept mechanically alive for a time while the donated organ is monitored. This current transplantation involved a 57-year-old brain-dead man with a functional heart who was placed on ventilator support.
In previous transplants of this kind, researchers have typically tried to keep the new organ alive long enough to rule out the possibility of immediate rejection from the human body, amounting to a few days or weeks at most. But this time, the NYU team went even further. In mid-August, they announced that the kidney was still functioning well a full 32 days after transplantation, already setting a new benchmark. And the kidney has now survived for just about six weeks.
"All signs are pointing in a positive direction with the kidney's ability to function just as a normal human kidney would," Philip Sommer, a critical care anesthesiologist and system director for organ donation at NYU Langone's Transplant Institute, told Fox News Digital Wednesday.
Scientists are still trying to figure out the most optimal way to make pig organs safe for human transplantation. Some transplants have used organs from pigs with up to 10 different genetic modifications, for instance. But for this latest procedure, the NYU team used a pig with only one big change: an inability to produce alpha-gal, a sugar naturally found in most mammals, with humans being an important exception. They also transplanted over the pig's thymus gland, an organ that plays a key role in regulating immune response.
Given the results, the team is hopeful that these simple tricks might be all that's needed to make pig-to-human transplants viable, at least for the kidney. Notably, Revivicor has already obtained approval from the Food and Drug Administration for their alpha-gal free pigs to be used medically (or as food to people with a rare tickborne allergy to alpha-gal). So being able to rely on these pigs alone should speed up the time it takes to study these transplants in larger trials and hopefully confirm their safety.
"We think using a pig already deemed safe by the FDA, in combination with what we have found in our xenotransplantation research so far, gets us closer to the clinical trial phase," said lead surgeon Robert Montgomery in a statement from NYU earlier this month. "We know this has the potential to save thousands of lives, but we want to ensure the utmost safety and care as we move forward."
There have been some recent hurdles in this field. In March 2022, 57-year-old David Bennett—the world's first living human to receive a genetically modified pig heart—died two months after the procedure. Bennett was only allowed to undergo the procedure due to having a terminal heart condition. Researchers have since found evidence that his death was at least partially the result of a pig virus that had likely been dormant in the heart and was undetected by conventional testing. The NYU team (and presumably other researchers) now perform enhanced screening to look for these latent pig viruses that could cause trouble.
As for the team's next immediate step, they plan to continue the experiment for several more weeks, up through mid-September.