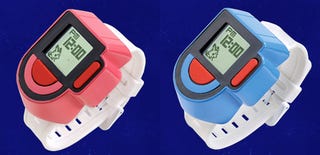 These Pokemon watches are at the peak of technology. Featuring 2 colors and a Pikachu icon, Kotaku really put it best:
I would say you gotta collect 'em all, but you don't really.
On a side note (translation: I did this post just to bring it up), I am throwing a small get together this evening. The theme is "videogames" and we'll feature a drink and subsequent drinking games around the topic.
So do any mixologists/college students out there know of some good videogame-themed cocktails or snacks? And let me know if you have any ideas for games we can play - though I think some Wii Sports, Karaoke Revolution and Tapper will cover us.
The fate of my party depends on you. And, uh, don't buy this watch. I wouldn't even wear it.
Product Page [via Kotaku]