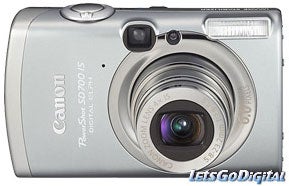 Canon is set to introduce three members to its SD line of PowerShot digital cameras, the SD700 IS, the SD630 and the SD600.
The top of the line is the 6-megapixel SD700 IS (pictured above), which not only has a 4x optical zoom but also adds optical image stabilization. Perhaps the most remarkable feature of this camera is its slim profile, even while packing a zoom lens inside with a focal length of 35mm-140mm (35mm equivalent).
Next in the SD line is the Powershot SD630, also a 6-megapixel camera but with a smaller 3x optical zoom. Even though it lacks the image stabilization of its SD700 sibling, it has a 3-inch LCD viewfinder instead of the SD700
s 2.5-inch screen. It will be available in April for $400.
The value-priced entry is the SD600, a 6-megapixel 3x optical zoom camera with a 2.5-inch LCD. It will be available in March for $350.
See a comparison of all the Canon digital cameras here.
Canon PowerShot SD700 IS [Let's Go Digital]

Canon PowerShot SD630 [Let's Go Digital]

Canon PowerShot SD600 [Let's Go Digital]
Pre-order Canon Powershot SD700 IS $499.99
Pre-order Canon Powershot SD630 $399.99
Pre-order Canon Powershot SD600 $349.99