In a rare note of dissent from a prominent scientist, Paul Ehrlich is denouncing Pope Francis's call to action on climate change, stating that the pope's rhetoric will be as "ineffective as ignoring the problem altogether" unless the world's billion Catholics embrace population control.
Ehrlich's critique, which appears in Nature Climate Change today, is part of "Society and the Pope's encyclical," a package of commentaries from leading scientists on the pope's landmark call to action on climate change. While praising the pope's overall message on equity and the environment, Ehrlich argues that Francis undermines his cause by failing to acknowledge the need for birth control and family planning. "There is little chance that the existential challenge facing humanity will be met," Ehrlich writes, "if the call for dramatic change in society is not expanded to embrace the global demographic dilemma."
Those who are familiar with Ehrlich's lifelong crusade to bring down the world's population won't be surprised by this. In his 1968 book The Population Bomb, the biologist outlined the terrifying apocalypse that would befall humanity should we fail to check our population growth. But as Paleofuture's Matt Novak points out, Ehrlich's proposed solutions — from covert sterilization through our drinking water to spiking food aid with anti-fertility drugs — were in many cases as disturbing as the future the biologist envisioned.
While Ehrlich's nightmare scenarios haven't panned out in the past, his more tempered rhetoric on the pope's encyclical does have a nugget of sanity: The UN predicts the global population will reach 9.7 billion by 2050. Last year, a paper published in Science found that our population could continue to soar into the late 21st century and beyond, eventually surpassing 12 billion. Many scientists agree that unchecked growth will eventually put impossible strain on the planet (remember, this year we overshot our annual supply of Earth's resources in August — and there are only 7 billion of us).
Perhaps Ehrlich will find himself in the company of more mainstream scientists today. Although given the man's past tactics of promoting eugenics — and the very real consequences those tactics had — I think we'd all do well to tread carefully here. History has a way of repeating itself.
G/O Media may get a commission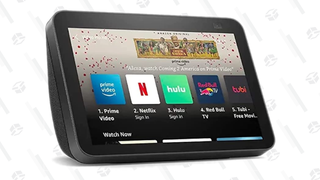 [Nature Climate Change h/t The Guardian]
---
Follow the author @themadstone
Top image: Pope Francis addressing the US Congress on September 24th, via Tony Gentile/Pool Photo/AP