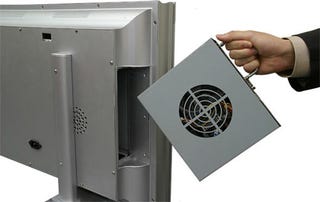 Space ninnys—people who hate anything that clutters up their desk—are fans of all-in-one PCs like the iMac for its condensed form factor. The Quixun GrandOpera LCD is the PC world's equivalent with a monitor and a computer all in one.
What's notable about this line is that the PC part of the computer is modular, so you can remove, repair, and upgrade easily. It comes in 32", 37", and 42" models and has an analog TV tuner. The brains of the PC are a bit underpowered though. Inside holds a Celeron M, 1GB of maximum memory, and 100GB of hard disk space and is just begging to be upgraded. The connectivity is a bit better, with four USB 2.0 ports, two composite outputs, two s-video outputs, and gigabit ethernet.
The 32" model costs $1,317, which isn't too bad for a screen of that size.
The quick sun, the liquid crystal TV one somatotype PC which can separate the PC part [PC Watch via Sci Fi Tech]