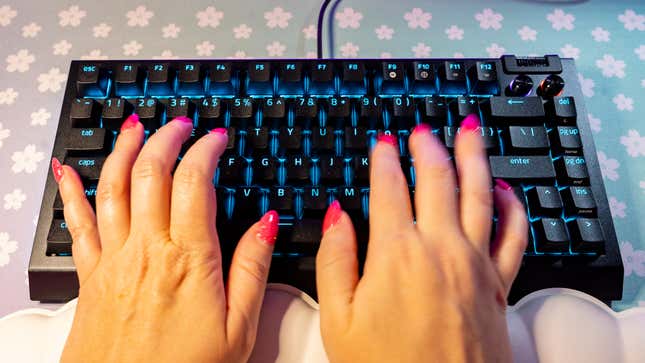 Razer has done an impressive job with its mechanical gaming keyboards. Since launching the DeathStalker V2 Pro in 2021, it's cut back on the physical bloat and opted for simpler designs so that the boards have become like blank canvasses. I'm still not on board with the decidedly masculine "esport" aesthetic, but at least you can trade out keycaps to femme it up. And with the new Razer BlackWidow V4, you can swap out the switches in favor of something quieter, clickier, or differently colored.

The BlackWidow V4 is Razer's first hot-swappable mechanical keyboard, which means you can remove and replace the keyboard's switches. This lets you mix up clicky, linear, and tactile keys as you see fit. Gamers like the capability because it allows them to control the sensitivity of the specific keys that matter.
Razer sent me the new BlackWidow V4 in a 75% configuration—essentially a "compressed" Ten-Keyless (TKL)—so I could check out the keyboard, which goes on sale today. This model costs $190 and features Razer's third-generation orange tactile switches. I fell for them immediately, despite being a linear girlie myself. I also swapped out a few mechanical switches to get a feel for the mechanism. It works! But I'm not too fond of how Razer laid out part of the keyboard.
Buy the Razer BlackWidow V4: Amazon | Razer
Hot swapping switches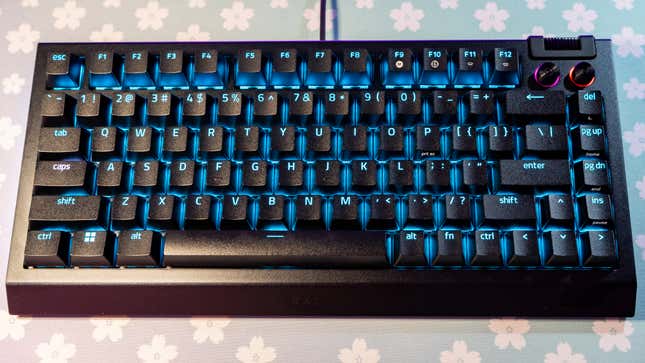 As far as looks go, the BlackWidow V4 is a standard Razer keyboard. It's black—a white edition is coming in September for $10 more—with Doubleshot ABS keycaps written in Razer's font. The keyboard links via USB-C and features the company's signature lighting on the sides of the board and underneath each key. You'll have to use Razer's Synapse software to customize the lighting. There's also a volume roller and two buttons in the top right-hand corner for quick media controls.
Razer built the BlackWidow V4 so that it's almost entirely customizable. You can remove the keycaps, change stabilizers, and pop out each switch to reveal a hot-swap socket, provided you have the proper tools. Razer does include one in the box, which makes this a nice package for the budding keyboard tinkerer.
The hot-swap sockets on the BlackWidow V4 are similar to those of other hot swap keyboards. They accept any mechanical switch with a 3- or 5-pin configuration. I tried swapping out an orange switch with a Gateron blue and red switch I had lying around. Unlike the Keychron Q models, you don't have to remove the top frame to access the switches. But some keys are harder to get to than others. I had trouble getting the Escape key out without a little force. At one point, I needed to unseat the switch along with the keycap, which can be perilous for the easily-bent pins on the bottom.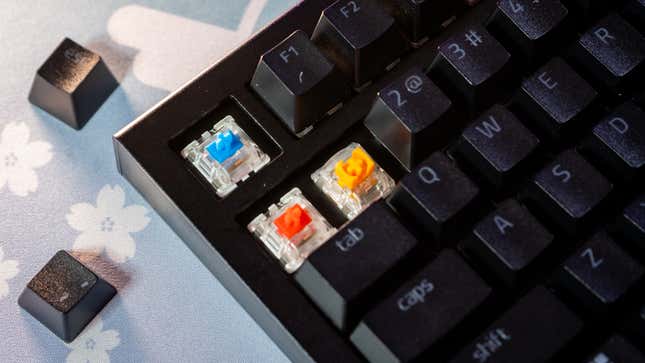 The BlackWidow V4 is also a very light keyboard. It's a feather compared to the hefty chunk of aluminum that is the Keychron. On the flip side, the BlackWidow is made of soft plastic, which Razer says is to help ensure comfort throughout your typing experience. While it feels great to type on, I'm wary of how it might weari after a few years of daily use. I had to rub out several fingerprints (my own) to take pictures of the keyboard. And ABS keycaps aren't known for their longevity or imperviousness to finger grease.

Buy the Razer BlackWidow V4: Amazon | Razer
New🍊switches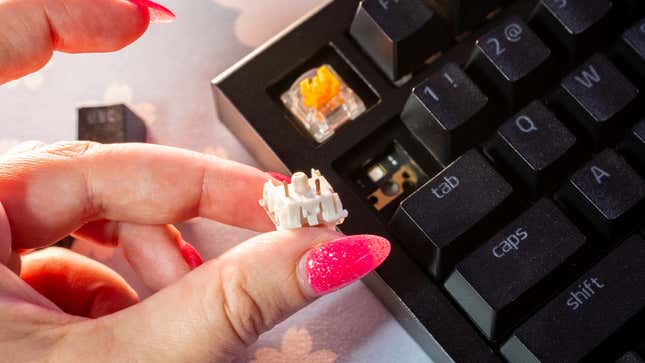 Razer's third-generation orange tactile switches have been improved to "emulate the trends and preferences" of current mechanical keyboard users. They now feature a slightly heavier 50g actuation force, which delivers a middle-of-the-road typing experience. They offer enough feedback for gaming, with enough bounce for me to write this piece as fast as I could. My initial typing test set me at 122 words per minute (WPM) with 98% accuracy.

Unfortunately, my fingers started to trip a bit when I got to the right side of the keyboard. The Ten-Keyless layout that Razer adopted here is indeed compressed. The layout resembles the BlackWidow V3 Mini in the right-most row, where the delete key and various navigation buttons reside. Overall, the right side of the BlackWidow V4 is too small for my wily way of typing. I keep accidentally pressing the insert button when I'm using the arrow keys to navigate, and it's messed up my formatting more than once while writing this piece. The non-standardized Shift key also looks like it'll be hard to swap out for a third-party set.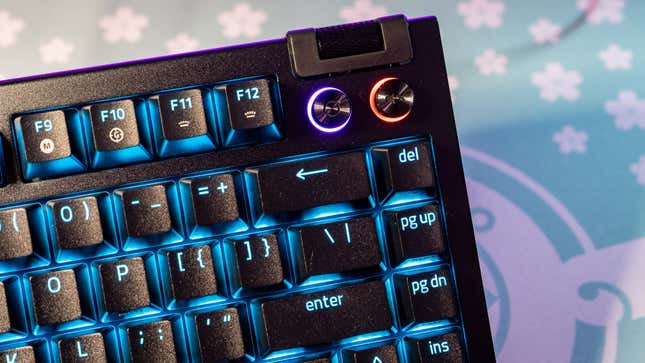 Razer is one of many major keyboard manufacturers to offer hot-swappable switches. Logitech and Corsair introduced the ability to their gaming keyboards earlier this year, while enthusiast brands have been doing it longer. It's good to see Razer hop on board a trend that will hopefully increase the longevity of its products.

But at $190, Razer's keyboards cost too much if you're planning to be casual about a keyboard hobby. Unless you're a gamer or reliant on Razer's specific switches for your performance, plenty of other brands, including Keychron, offer more bang for your buck.