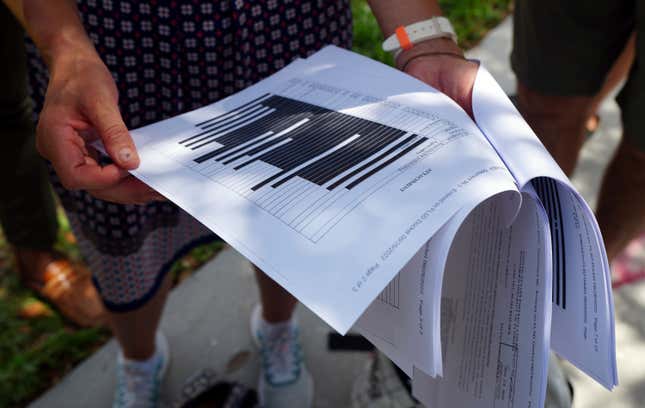 A redacted version of the affidavit justifying the FBI's extraordinary actions at Mar-a-Lago has been released to the public on the order of a federal magistrate judge. It contains multiple references to suspicion that Trump potentially had information in his residence that is specially controlled to prevent its dissemination even at the highest levels of government; documents which, if relevant to national defense and gathered or transmitted without proper authorization, could constitute a violation of the Espionage Act.

Meet Microsoft's New Surface Laptops
The affidavit reveals the FBI feared improper handling of the missing documents might compromise systems designed to protect "clandestine human sources." The intelligence community's sources and the methods by which it obtains intelligence are considered its most sensitive secrets.

(If the embed above does not work for you, click here to see the full [redacted] document.)
Affidavits submitted by law enforcement in court typically describe why authorities have probable cause to believe there is evidence of criminal activity at a certain location, and often contain names of witnesses to crimes alleged. (Probable cause is an evidentiary standard that, in the case of a search, requires police to sway a judge by presenting sufficient credible information to establish a crime has occurred.)
Experts have argued in recent weeks that while U.S. presidents' enjoy broad authority to declassify information on a whim, their ability to do so is statutorily limited in certain areas, including those relevant to covert operations and nuclear secrets — information the government considers "born secret".
What's more, the affidavit refers to intelligence obtained under the Foreign Intelligence Surveillance Act (FISA): methods of controlling and authorizing electronic surveillance that target foreign agents and adversaries who may be considered national security threats — processes which are regulated under congressional statutes (as opposed to executive order) and are overseen by a secret court.
The improper collection or disclosure of information protected under FISA would, in almost any case, be considered a violation of the Espionage Act.
The affidavit was made public on Friday by order of Federal Magistrate Judge Bruce E. Reinhart, despite the reported opposition of Attorney General Merrick Garland. Reinhart is the same judge who authorized the search of Trump's Mar-a-Lago residence and private club, which was carried out on Aug. 8. Several news agencies, including the Washington Post, had argued in court for the affidavit's release citing acute public interest.
The release of the document followed Reinhart's approval of numerous redactions suggested by the DOJ in an effort, the document says, to protect "a significant number of civilian witnesses."
The DOJ filing notes the names of FBI agents involved in the investigation and search of Mar-a-Lago necessitate redaction due to "repeated threats of violence from members of the public." The identities of certain agents were notably contained in unredacted copies of the FBI's warrant, as well as receipts describing items seized from Mar-a-Lago on Aug 8.
While the agents' names were redacted in copies of those documents unsealed by Reinhart on Aug. 12, the Trump-friendly website Breitbart News independently obtained its own unredacted copies and chose to publish the names roughly an hour before the court's redacted versions were made public.
According to the affidavit released Friday, the FBI's review of the classified materials taken from Mar-a-Lago in March found 184 documents bearing classification markings, including 92 marked "secret" and 25 marked "top secret". Some contained additional markings known as handling caveats, including "HCS, FISA, ORCON, NOFORN, and SI".
Handling caveats are used to further restrict or "compartmentalize" sensitive information among individuals with security clearances. A document marked "TS/HCS," for example, may only be viewed by someone with a "top secret" clearance who is also authorized to know "human confidential sources." Human sources are among the hardest to obtain, and due to the threats they face, extreme care is taken by intelligence community members to protect them.
The dissemination of documents marked "ORCON" can only be authorized by the department or office whence they originate. "NOFORN" documents cannot be shared with non-U.S. citizens, even if they're trusted by the U.S. government. "SI" refers to a control system that protects communications and electronic surveillance — known as SIGINT — which is managed by the director of the National Security Agency (NSA).
Federal investigators had served Trump with a grand jury subpoena this spring in effort to retrieve what now appears to have been a considerable amount of classified material improperly transferred to his Florida estate following his electoral defeat by now-President Joe Biden. The National Archives, which has overseen the handling of president records since the late 1970s, reportedly arranged to retrieve 15 boxes of such materials. According to the affidavit, the FBI retrieved them in March, though the National Archives had reportedly sought their return as early as January.
Classified information can only be legally stored in an approved facility, such as a sensitive compartmented room known as a "SCIF", or in a container approved for such use under guidelines set by the General Services Administration.
The affidavit's author — an FBI special agent whose identity is withheld — wrote that, based on training and experience, "I know the documents classified at these levels typically contain NDI." (NDI is an initialism for "national defense information.") Magistrates may consider the training and experience of law enforcement officers when deciding whether the threshold for probable cause has been met.
The DOJ's warrant for Mar-a-Lago specified three federal statutes under which it claimed to have probable cause to demonstrate a crime had occurred — or was, at the time, underway.
Notably, the provision of the Espionage Act cited by DOJ specifically forbids the "gathering, transmitting or [loss]" of information "relating to the national defense," which the possessor knows, or has reason to believe, could harm the United States or provide an advantage to a foreign nation.
Another provision cited by the warrant is from a chapter of the U.S. criminal code describing the numerous ways in which justice can be obstructed. Section 1519 states, in short, that it is illegal to destroy or conceal any document with the intent to "impede, obstruct, or influence" a federal investigation. That is to say, prosecutors would need to both prove that Trump, or others connected to the documents, hid them purposefully, and did so, specifically, to hinder the government's search.
The crime of obstruction, under Section 1519, carries a maximum penalty of 20 years in prison.