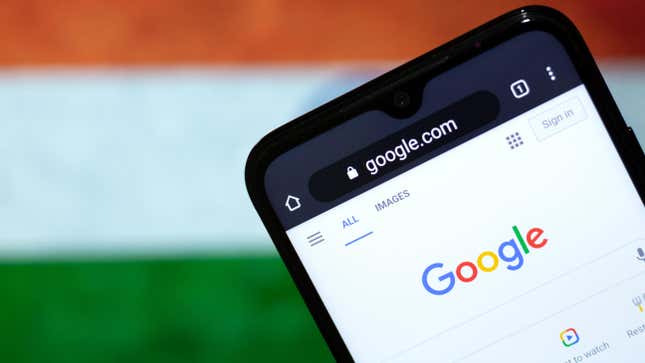 As Reddit users protested the company's sweeping changes to its application programming interface (API), big wigs at Google noticed that the online blackout caused collateral damage to Google Search.

No Google AI Search, I Don't Need to Learn About the "Benefits of Slavery"
According to leaked audio obtained by CNBC, Google's senior vice president of Search Prabhakar Raghavan claimed at a company all-hands meeting earlier this month that Google users were "not quite happy" with the search engine following the blackout. The issue lies in how people may optimize Google searches by adding "reddit" as a modifier to get more specific results when researching a product, television show, problem, life hack, et cetera. Hundreds of the largest subreddits going dark or creating spam posts of John Oliver made those results inaccessible or irrelevant.
"Many of you may wonder how we have a search team that's iterating and building all this new stuff and yet somehow, users are still not quite happy," Raghavan said in the audio. "We need to make users happy." Raghavan was reportedly responding to an employee asking about negative user feedback due to irrelevant results and a rising number of ads. Google did not immediately return a request for comment.
As CNBC reports, Google executives claimed that the problem could be in part resolved by a new feature called Perspectives. Perspectives, which was released last week, is an attempt by Google to highlight human-generated videos and written posts shared on apps like TikTok, Reddit, and Quora. Google CEO Sundar Pichai claimed in the audio that users don't want "blue links," instead they want "comprehensive answers" which is why the search engine highlights results from sites like Reddit. The VP of engineering said that the Perspectives tab is an attempt to push more of that content.
In April, Reddit announced that it would be charging companies for access to its API. Redditors, not one to stand idly by while their home on the internet made sweeping changes to its digital infrastructure, banded together and decided to go on strike over the company's decision—leading to hundreds of subreddits going private beginning on June 12. The protest was set to expire on June 14. While most subreddits have let up on the blackout, some spoke of an indefinite blackout after a leaked memo from CEO Steve Huffman indicated that nothing would change. While Google Search was an unexpected disruption in the scope of the protest, Reddit's traffic has pretty much returned to normal.