In today's batch of things that didn't make the cut we've got a bit of NSFW humor, Time's list of gadgets of the year, an angry celebrity suing an Internet person, Dell profiting through Twitter, and more.
Time Names Droid as Gadget of the Year, iPhone Last Seen Crying in Corner
Time made their list of Gadgets of the Year and it looks like the Droid came out on top, followed by the Nook. The iPhone doesn't even get bronze and instead sits at fourth place this year. Youch. Do we even care about these lists anymore though? [Electronista]
What if Women Were as Horny and Pervy as Men?
This one made a few of us laugh like crazy, but heads up: There's definitely some man-crack visible sometime during the pole dancing sequence. Yes, that means this video is definitely NSFW unless your boss is Jason Chen and giggles right along with you.
2010's Color of the Year is Seriously Ugly
Apparently Pantone picked a color of the year already and, frankly, the description is almost as bad as the color:
Combining the serene qualities of blue and the invigorating aspects of green, Turquoise evokes thoughts of soothing, tropical waters and a languorous, effective escape from the everyday troubles of the world, while at the same time restoring our sense of wellbeing
G/O Media may get a commission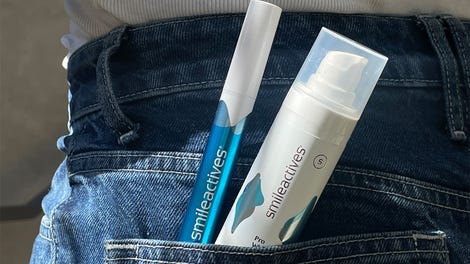 58% off
Whitening Powerhouse Pen & Gel Duo
I have to be honest though, I probably only dislike #15-5519 Turquoise because I prefered 2009's #14-0848 Mimosa. [Crunchgear]
(Super Gay) Ron Livingston Does Not Understand the Internet
Alright, so I'm just baiting Office Space actor Ron Livingston a bit in that headline. I don't really know or care what his sexual orientation is or whether it's super or not. I just know that he's attempting to sue an anonymous Wikipedia editor for constantly changing his entry to state that "he is gay and officially confermed (sic) it in TMZ he is gay and darn proud."
Dear Ron, I've had far stranger things written about me, ranging from implications of vampirism to suggestions that I've got an obsession with space travel. I'm not suing. You shouldn't be either. [Wired]
Windows Server and Azure Get Blended Into Server & Cloud
Microsoft has created a new Server & Cloud Division which will include Windows Server and Azure. Like the name gives away, it'll focus on both on-premise and cloud solutions. Looks like it's mainly some reorganization for now and won't affect Microsoft's roadmaps. [ZDNET]
Dell's Twitter Account Generates $6.5 million in Revenue Over Two Years
I'd laugh at Dell for employing 100 people whose job is to man the company's Twitter accounts, but apparently it's paying off in the form of $6.5 million made from Twitter promoted offers. Not too shabby, Dell! [BGR]