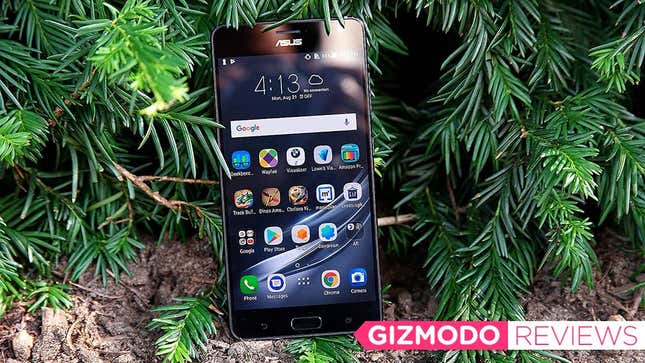 Every time a new platform comes out, the gadget world runs headfirst into a vicious Catch-22: How do you get people to adopt new technology when there isn't any content, and if there isn't anyone using the tech, how do you convince developers to make content for that platform? Recently, we've seen this situation unfold for VR headsets like the HTC Vive and Oculus Rift. Despite both systems' ability to evoke profound jaw-dropping reactions from those who've tried it, VR is still too expensive and thin on content for people to really care.

Meet Microsoft's New Surface Laptops
And as it is with VR, so it goes for augmented reality too. Google has been teasing its Tango AR platform for years, but because Tango requires a specific combination traditional cameras, motion tracking sensors and infrared cameras, most companies haven't bothered to incorporate Tango into their devices. In fact, the grand total of Tango devices released to the public stands at just two.
The first was Lenovo's Phab 2 Pro which was the first Tango-enabled phone you could actually buy. But weak specs, an uninspired design and the inexplicable decision to sell the handset at Lowe's instead of regular phone retailers led to a device that didn't register for the even most tech obsessed.
The second handset is this, the Asus Zenfone AR, which came out in early August to little fanfare. The ZenFone AR sports a much more mainstream design with a big 5.7-inch screen, a front-mounted finger sensor, capacitive touch buttons, and even a burnished leather back. And in back there's the a big Tango-certified camera module featuring a 23-megapixel main camera, a motion-tracking sensor below that and a depth-sensing infrared camera off to the side.
As someone who's used both, it's immediately clear that the ZenFone AR is a significant improvement over the Phab 2 Pro as an all-around phone. Its body feels more refined, its screen is bright and reasonably colorful and you even get support for Google's Daydream virtual reality platform, so you can toss the phone in a headset for some impromptu VR fun. (For the record the ZenFone AR is the first device to support both Daydream and Tango.) In normal use, the ZenFone's battery life ain't too shabby either, as it lasted 8 hours and 43 minutes on our rundown test, which is in the same ballpark as the Moto Z2 Force (8:42) and the Samsung Galaxy S8 (9:12). But at the same time, there's isn't anything special about the ZenFone AR outside of Tango, which is precisely where things go south.
Tango AR apps are easy enough to find, as there's a dedicated section for them in the Play Store. The problem is that there isn't a single Tango app that can hold your attention for longer than 30 seconds—and I tried almost all 35 or so Tango apps out. I found myself saying "This is neat," right before I closed each app and moved on to the next one. Tango is still at a point where every app feels like a tech demo.
Take, for example, the BMW iVisualizer app, which uses Tango to virtually spawn a 3D model of a BMW i3 or i8 inside your living room. From there, you can move the phone around to check out the car from every angle, open the doors, and even change the material on the dash or seats. It's fun for about 15 seconds.

The real excitement comes from thinking about what ifs. What if you could use this to configure a car before you buy it? Or what if BMW turned the app into high-tech owner's manual, so that BMW could give you an easy way locate where the windshield fluid reservoir is hidden? But they won't, at least not for a long time, because no company is going to spend millions of dollars making AR software that can only be used on just two devices.
Then there's software like the Measure app, which uses Tango to measure whatever you can point the phone's cameras at. But once again, the app isn't actually that useful because the instant you boot it up, there's a disclaimer saying "Measurements are estimates, and may contain inaccuracies." In Measure's defense, the numbers it calculated were often pretty close. But on the flip side, as anyone who's ever tried to build shitty Ikea furniture knows, close isn't really good enough. It's still way too early to toss out your tape measures and laser levels.
The one exception to this collection of nonsense might be the Wayfair app, which has a special section that lets you shop for furniture in 3D by leveraging Tango's AR capabilities. All you have to do is scroll through a list of available pieces, select the one you like, and then hit the button that says "3D View In Room." In just a couple seconds, that item will be sitting in front of you thanks to the power of augmented reality.
This gives you a good sense of what a Grimes Pouf Ottoman or an O'hare Accent Cabinet will look like in your home. You can move pieces around, rotate them and get a good sense of whether that 4-foot long coffee table will fit properly in your space or not. So even though not every piece of furniture across Wayfair's inventory has been graced with an AR-supported 3D model, it's a start and Wayfair is always adding more items to its 3D catalog. But once again, how much time do you actually spend shopping for furniture? Going out of your way to buy a mediocre phone just you can play interior designer a bit better is ludicrous.
Just to be sure, I reached out to the developers behind the Wayfair app to see what they thought about Tango shortcomings, and the impression I got is that they are acutely aware of the problem as well. In regards to Tango, Shrenik Sadalgi, Wayfair engineering lead told Gizmodo, "We see a chicken and egg problem here–use of new AR technology like Tango is best demonstrated with quality 3D content. Quality 3D content needs good technology like Tango in order to be consumed. There is an interdependence between the two–and they both need to be available at the same time. If either is too early, the technology may not become mainstream."
This means that the team at Wayfair can't bank on Tango alone, which forces them to consider other, potentially less powerful augmented reality platforms such as Apple's ARKit—which will be available on millions of devices when it goes live in iOS 11 later this year.
The wider adoption rate of ARKit is what appeals to some developers, like Asher Vollmer, creator of the popular puzzle game Threes. "There's one big obvious advantage [to ARKit]: instant access to millions of users. Technology will never succeed in a void," he told told Gizmodo. Which is why his own augmented reality furniture viewing project, that is similar to Wayfair's Tango-enhanced offering, will arrive on ARKit enabled phones.
"As tempting as it is to be on the cutting edge of technology, AR simply didn't have an accessible platform for users until [ARKit]." He said. "I simply don't expect anyone to buy specialty hardware or go through an unwieldy setup process just so they can get access to a new type of software." Judging by the paltry offering of apps in the Tango store, Vollmer isn't the only developer thinking that way.
Which makes the ZenFone AR a hard sell. I can't in good conscience recommend this $600 dollar phone to anyone, and the really sad thing is that it isn't really Asus' fault. The problem lies more with Google. Tango is a classic example of a good idea and terrible execution; the ZenFone AR is just collateral damage. Google isn't pushing hard enough to ensure gadget makers design devices with Tango in mind, and there's no content spurring regular folks to ask for it. That vicious Catch-22 is still alive and well.

And if you think about it some more, the future looks even bleaker for Google's AR platform. I'm willing to bet that the upcoming Pixel 2 won't include Tango hardware. Meanwhile, Apple is on the precipice of essentially flipping a switch and bringing augmented reality to millions when it releases ARKit via iOS 11 sometime this fall. And while ARKit, isn't nearly as precise or as potentially as powerful as Tango, it's not going to matter. Oftentimes, a good idea isn't enough, implementation is.
README
$599 starting price isn't that high, but its processor is a year old.

Phone gets pretty hot and eats battery when doing AR things.

The first phone to support both Daydream VR and Project Tango AR.

Tango apps still aren't interesting enough to care about.

SPEC DUMP
Android 7.0 • 5.7-inch 2560 x 1440 super AMOLED display • Qualcomm Snapdragon 821 CPU • 6GB or 8GB of RAM • 64GB or 128GB storage •3,300 mAh battery • 23-MP main rear cam • 8-MP front camera • front-mounted home button with fingerprint reader • capacitive touch buttons for Back and Recent Apps