Roll that spliff phatly, pack some fresh ice into the binger, and set the Volcano to "toastify." It's time for tonight's Stoner Channel. We've collected our best high-times material for the discerning pothead so sit back, relax, and pass that shit on the left, yo.
Tonight's soft-focus weed porn comes to us from reader JH.
Click here for more hits from the bong.
Smoke Nullifiers on the Cheap
So you just took a monstrous rip, haven't even had the chance to exhale, and boom—your landord's banging down your door to bust your balls about rent. You can't very well have your place reeking when you're chatting, now can you?
G/O Media may get a commission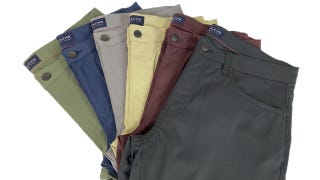 JACHS NY Fall Stretch Tech Pants
You've got two options in this situation. First, you can buy yourself a Smoke Buddy for $20. It's a small disposable air purifier. You you exhale through the mouthpiece and the device filters out the odor and smoke. It's available from the Smoke Buddy website.
Or, if you don't feel like blowing $20, you can do the same thing with a paper towel tube and a dozen or so dryer sheets. Bunch up one sheet at a time, pack them in the tube and blow smoke. And when you've exhausted their freshness you can reuse them for other stuff beyond the laundry. Image: Aaron Amat / Shutterstock
Even with the crippling debt of student loans and the threat of teleporting into sharp things, I want to go to the Central Institute of Technology.
See? Even Minifigs Have Grow Rooms
That's a wicked hydroponic setup given that LEGO people only have those weird Danny-DeVito-as-Penguin, clamp hands. Check out the full gallery here.
All images are ©Scott Parsley
Think about it. James Bond flicks totally set off the modern gadget craze. What better way for normal people to play the super-suave Secret Agent without any of the talent or training than owning the same toys? Except maybe the phone watch, that was all Dick Tracy.
Some of the earlier attempts at making 007 technology readily available for the everyman were...less effective...than others.
Boo Bass (Monsters, Inc. Remix)
Put your hands in the air and say D'AWWWWWWWWW!
Are You a Green Gardener?
Care to show off your handiwork to the Internets? If so, we want pics of your best buds, your highest-tech setups, and your bushiest bushes. Send images—960x540 minimum but we prefer 1600x900—of your legal stashes (no High Times ripoffs please) to atarantola at Gizmodo.com and we'll feature the best at the top each night's Stoner Channel. Put "The Stoner Channel" in the subject line while you're at it.
And no, for the last time, we aren't interested in seeing your wicked meth lab setup Jerry. Stop it or we're calling the fuzz.
Image: Curtis Barnard / Shutterstock