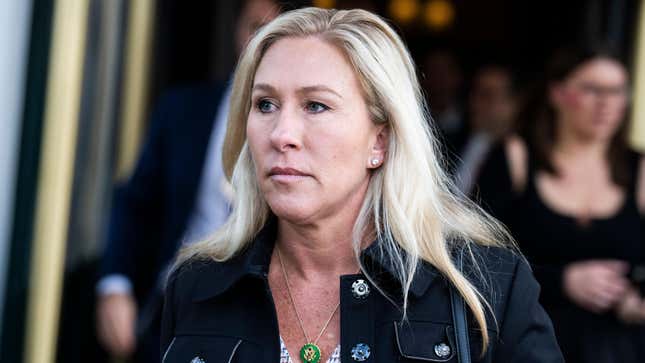 Rep. Marjorie Taylor Greene's (R-GA) congressional Twitter account was temporarily suspended on Tuesday for her "vengeance" post in the wake of the Nashville school shooting. Greene posted a screenshot of the notice informing her that the account is suspended for seven days citing she was in violation of Twitter's violent speech rules.
Twitter Is Shifting Right | Future Tech
Greene had posted a poster image about a rally due to take place in Washington, D.C. on Saturday and wrote in a post that has since been removed, "Antifa is organizing a Trans Day of Vengeance." She tied the rally to the recent shooting at a Nashville Christian school that left three children and three adults dead, including the shooter who police later identified as a 28-year-old who was assigned female at birth and used "male pronouns" on social media.
Twitter was forced to remove the post several times after Greene continued to upload the image, and Twitter's head of trust and safety, Ella Irwin, said in a tweet on the platform that the company works to remove all posts inciting violence and had already removed more than 5,000 retweets of the poster amidst concerns that it would incite violence. She added, "We do not support tweets that incite violence irrespective of who posts them. 'Vengeance' does not imply peaceful protest. Organizing or support for peaceful protests is ok."
The poster focuses on an April 1 event organized by Our Rights DC and the Trans Radical Activist Network to protest anti-trans legislation and continued violence against transgender people in the U.S. The poster was phrased as a call to action, stating, "We need more visibility" and promoted the rally at the Supreme Court to "stop trans genocide."
Greene responded to the suspension, writing, "My Congressional account was suspended for 7 days for exposing Antifa, who is organizing a call for violence called 'Trans Day of Vengeance,' The day after the mass murder of children by a trans shooter." The groups say the rally has no connection to the shooting and are "horrified" and "outraged" by the shooting at the school.
"Vengeance means fighting back with vehemence. We are fighting against false narratives, criminalization, and eradication of our existence," the groups said in a joint statement. "It is also a call to our allies to stand up and fight with us to bring down the forces that try to divide and subjugate us all."
Following the shooting, the Congresswoman also posed the question, "How much hormones like testosterone and medications for mental illness was the transgender Nashville school shooter taking?" in an effort to take any blame or focus away from guns.
Greene has been a vocal opponent of transgender rights. In her first year in office, she co-sponsored a bill to ban U.S. embassies from flying the LGBTQ+ pride flag and last year she supported banning gender-affirming care for transgender minors. She said earlier this month that she plans to reintroduce the proposal.
Greene's account has also previously been suspended for violating Twitter's covid-19 misinformation policy by posting about vaccines and for her false claims of election fraud following the 2020 presidential election.