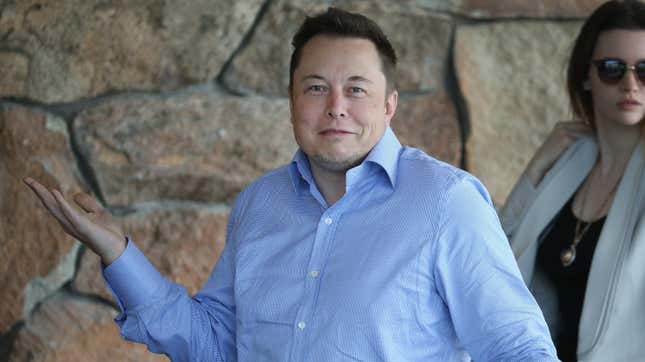 Four months after Elon Musk took the helm at Twitter and promised to make it a loud-mouthed, free-for-all wonderland, the company has released yet another in a long line major speech policy changes, this time announcing a "zero-tolerance approach" towards violent speech in a reversal of its previous stance. So much for free speech absolutism.

These supposedly "new" policies in reality look an awful lot like the old speech rules under previous leadership. Now, Twitter says users may not "threaten, incite, glorify, or express desire for violence or harm" or create content that incites or promotes others to commit acts of violence. In most cases, Twitter says it will permanently suspend users that violate its violent speech policies. For other "less severe violations," Twitter says it may instead temporarily lock users in Twitter jail before they can tweet again. It's unclear what counts as "less severe" in this context.

"Twitter is a place where people can express themselves, learn about what's happening, and debate global issues. However, healthy conversations can't thrive when violent speech is used to deliver a message," the new Twitter policy reads. "As a result, we have a zero tolerance policy towards violent speech in order to ensure the safety of our users and prevent the normalization of violent actions."
In some cases, Twitter's new rules actually go further in clamping down on speech than policies in place prior to Musk's arrival. Specifically, the new policy prohibits users who "wish, hope, or express desire for harm," against others. Users are also prohibited from threatening to damage homes and shelters of, "infrastructure that is essential to daily, civic, or business activities." Twitter's previous policy, by contrast, said vague or indirect threats, or "threatening actions that are unlikely to cause serious injury," were not actionable. That carveout is important because it protects a wide breadth of political speech, a point illustrated in the Meta Oversight Board's recent decision to keep posts calling for the death of Iran's supreme leader to stay online.
Gizmodo tried to reach out to Twitter for some more details on this change but the company eliminated its communications team as part of its sweeping layoffs.
So much for Elon Musk the "free speech absolutist"
Musk's new policies acknowledge unavoidable realities of operating any social platform at scale, something the so-called "free speech absolutist" apparently didn't fully comprehend when he spent $44 billion on the platform. Sure, Musk has reinstated Donald Trump's account and no shortage of other shit-hurlers, but he's also overseen the suspension of journalists, complicity with state censorship in India, and even used the platform to exile a college student using publicly available data to track his private jet.