Julian Assange, the embattled Wikileaks founder who has been holed up in the Ecuadorean embassy in London since 2012 for fear he could be extradited to the U.S. for publishing classified material, is in deep trouble. Court documents mistakenly released appear to suggest that he is facing unspecified, sealed charges in the U.S. that could either be espionage—a move that could be very ominous for other journalists who have published government secrets—or other theoretical charges regarding alleged relationships with hackers that went beyond protected journalistic activity.

As it turns out, his Ecuadorean hosts seem to have been even more eager to get rid of their troublesome guest than has previously been reported. A report in the New York Times on Monday alleges that Paul Manafort, the prison-bound former chair of Donald Trump's 2016 campaign, tried to strike a deal with inbound Ecuadorean President Lenín Moreno in May 2017 to turn Assange over to U.S. authorities.
Manafort, a career lobbyist and consultant for horrid dictators the world over, will be sentenced next year after allegedly violating a plea agreement with prosecutors, which came after officials investigating alleged Russian interference in the 2016 elections uncovered evidence of Manafort's financial crimes. But in 2017, while he was still a free man, he reportedly traveled to Ecuador to discuss potential Chinese investments in the nation's power grid. Discussions there quickly turned to whether Manafort could secure some sort of reward for Moreno in exchange for Assange's extradition, the Times wrote:
In at least two meetings with Mr. Manafort, Mr. Moreno and his aides discussed their desire to rid themselves of Mr. Assange, who has been holed up in the Ecuadorean Embassy in London since 2012, in exchange for concessions like debt relief from the United States, according to three people familiar with the talks, the details of which have not been previously reported.

They said Mr. Manafort suggested he could help negotiate a deal for the handover of Mr. Assange to the United States, which has long investigated Mr. Assange for the disclosure of secret documents and which later filed charges against him that have not yet been made public.
As the Times noted, soon afterwards it became clear that Special Counsel Robert Mueller and his team considered Manafort one of their juiciest targets. Manafort's attention was thus otherwise occupied, and the talks never came to anything.
The paper added there is no evidence that Manafort "was motivated by concerns about the role that Mr. Assange and WikiLeaks played" in publishing internal Democratic Party documents allegedly obtained by Russian hackers, or that he was acting on behalf of Trump, who has viewed Mueller's investigation as an existential threat to his presidency. Instead, the Times suggested, it was just about money:
... The trip to Ecuador was part of a whirlwind world tour that represented the last gasps of Mr. Manafort's once lucrative career.


In those final months, Mr. Manafort pitched officials from a range of governments facing a variety of challenges, from Puerto Rico to Ecuador to Iraqi Kurdistan to the United Arab Emirates. Mr. Manafort, who served on the board of the Overseas Private Investment Corporation in the Reagan administration, presented himself as a liaison to the new Trump administration and, in some cases, as a broker for arranging investments from a fund associated with the state-owned China Development Bank.
G/O Media may get a commission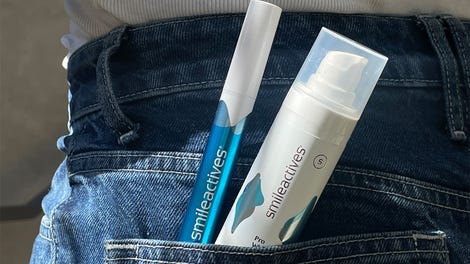 58% off
Whitening Powerhouse Pen & Gel Duo
At the time of the discussions, the paper wrote, Assange had not yet been charged and Wikileaks was a favorite of team Trump—specifically because of the organization's role in publishing the hacked Democratic documents. So there may not have been any appetite on the U.S. side for such a deal at that time. After the talks went nowhere, Ecuador made Assange a citizen, and then reportedly tried to get rid of him by sending him to Russia in a diplomatic capacity.
That plan never materialized, either, as Assange is currently wanted by UK officials officially seeking to arrest him for jumping bail over a since-dropped rape investigation in Sweden. While UK authorities say a police presence outside the embassy has been removed, they also claim they are continuing to employ "overt and covert tactics" to take him into custody. (Assange believes the matter is simply a pretext to secure his extradition.)
While most of the recent furor regarding Assange has involved questions about how closely he worked with the Russians that U.S. intelligence asserts are behind the Democratic hack, the nature of the charges against him in the U.S. remain unknown. Wikileaks has published material obtained by hackers who broke into private intelligence firm Stratfor, among several other U.S. companies; a trove of documents illegally stolen by former U.S. Army intelligence analyst Chelsea Manning; and countless other national security secrets. It's possible that prosecutors have charged him with violations of the Espionage Act for publishing classified information, but that involves some daunting legal hurdles and could have far-reaching ramifications for journalists who publish U.S. government secrets in the future.
Wikileaks has become increasingly reckless in its approach (and Assange obviously desperate for Trump's favor, to no avail) since the self-imposed exile in the embassy began in 2012. On Monday night, Wikileaks' Twitter account posted a link to an ethics complaint against Mueller by Jerome Corsi, a conspiracy theorist and former Infowars regular who investigators believe knew about Wikileaks' plans to release the hacked Democratic documents in advance.
Prosecutors are still considering charging Manafort, who is cooperating with Mueller's team, with additional crimes.