Wikileaks founder Julian Assange, whose status as an unwanted guest at the Ecuadorian embassy in London has been growing ever more tenuous for months, could reportedly be booted at any time, according to reports in CNN and the Times of London.

Assange has hidden in the embassy since 2012, officially first on the grounds of since-dropped rape charges in Sweden and now on breach of bail conditions, but also on the likelihood U.S. officials will demand his extradition on sealed espionage charges for leaking classified information the minute he leaves the building. Sources told the Times that on Thursday, Ecuadorian President Lenín Moreno said while in Madrid that no one should remain in asylum "for too long" and that negotiations with the British government could have resulted in an agreement that he would not face the death penalty.
The Times of London writes individuals with knowledge of the situation believe Assange's stay will end very shortly, though it is not clear when:
One of Mr Assange's team yesterday said that the crisis had prompted contingency plans for him to leave in "hours, days or weeks". The assistant criticised Mr Moreno, calling on him to have "more spine".

... A source with detailed knowledge of the case said: "I expect [Assange] to lose his asylum status imminently. This means he will be expelled from the embassy. When this will happen is impossible to say."
Moreno views Assange's status as a problem granted to him by his predecessor, Rafael Correa, and pressure for him to resolve it has been building for some time. In March, the embassy cut off Assange's internet access, saying he had violated an agreement to not interfere with Ecuador's international affairs—possibly referring to his relentless (and insufferable) tweeting, attempts to secure the goodwill of Donald Trump Jr., support for Spain's Catalan independence movement, and increasing alignment with a bevy of far-right fringe figures like European nationalists.
Later, Moreno confirmed that Assange could stay if he became less of a headache, though it seems that the situation has continued to deteriorate. Reports have indicated the Ecuadorean government has spent millions on Assange's security, including monitoring his guests.
G/O Media may get a commission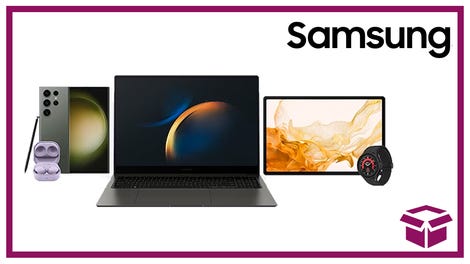 24 hour deals
Discover Samsung - Daily Deal
As CNN noted, indictments filed by special counsel Robert Mueller make it clear that the U.S. government believes Wikileaks was used as a front for Russian intelligence operatives to leak hacked emails about Democrats during the 2016 election as part of a larger alleged propaganda and misinformation campaign. The documents also hint that the U.S. has evidence Assange colluded with his sources to time the releases to do maximum damage to the Democratic ticket.
While it is unknown whether Mueller has filed sealed indictments in that matter, what has been clear for some time is that authorities are likely planning to prosecute him for posting thousands of classified military documents that exposed U.S. war crimes in 2010 given to him by Chelsea Manning. (Attorney General Jeff Sessions has very openly expressed his desire to prosecute Assange over the matter, a position also backed by Secretary of State Mike Pompeo.) It's pretty screwed up Assange might ultimately go down for exposing massacres of civilians and other atrocities, but it also speaks to how bad the U.S. intelligence community wants to nail him.
Jennifer Robinson, a member of Assange's legal team, told CNN that Wikileaks continues to deny any knowledge Russian state sources were passing them on the emails.
"For us protecting him from US extradition is absolutely paramount, and the most important and fundamental principle that must be respected," Robinson told CNN. "There should never be a situation where a publisher is sent to the US to face prosecution for that activity, so we will, if forced, fight his extradition in the British Courts."
As CNN noted, British officials are also wary of the situation, with Foreign Office Minister Alan Duncan stating that their "first priority" is to safeguard Assange's health, "which we think is deteriorating." According to the Times of London, Assange's doctor Sondra Crosby has expressed doubts about the Wikileaks chief's ability to weather an ongoing heat wave.
Downing Street confirmed to CNN that diplomatic discussions to guarantee Assange's safety were "ongoing," though ultimately what kind of concessions he could receive or how British officials define safety remains unclear. For example, confirmation that he would not receive the death penalty or be tortured may not count for much if neither of those things were likely to happen to him if extradited to the U.S. Further complicating discussions is Assange's Ecuadorean citizenship, which he was originally granted in a fruitless attempt to allow him to leave the embassy unimpeded.
It's possible that rumors of Assange's imminent exit are part of a pressure campaign by various parties with an interest in determining what happens to him after he is forced to leave the embassy. That said, it is also possible Assange could be kicked out at any time, with or without any deal in place.
[CNN and Times of London via Engadget]