Bob Guccione, best known as the publisher of Penthouse, died last week at 79. To scifi fans, Guccione will always be known as the guy who bankrolled Kathy Keeton's Omni magazine.
Guccione (pictured here with Keeton) was either a major science fiction aficionado or simply recognized a market worth serving. He took Omni magazine, founded by Keeton, very seriously as a business throughout its history.
Ben Bova was its fiction editor when it launched in October 1978, and was soon promoted to editor, where he stayed until 1981. Robert Sheckley succeeded Bova as fiction editor, with Ellen Datlow as his associate; when she took over as fiction editor in 1981, she stayed until the magazine shut its doors in 1998 (the last two years being online-only; the final print edition was published in 1996).
The first issue included short stories by Isaac Asimov, Theodore Sturgeon, Ron Goulart and James B. Hall. During its lifespan, Omni published short fiction by Arthur C. Clarke, William Gibson ("Burning Chrome" and "Johnny Mnemonic"), Orson Scott Card, Harlan Ellison, George R. R. Martin, William Burroughs, Joyce Carol Oates, Jonathan Carroll, Stephen King, Pat Cadigan, and T. Coraghessan Boyle, among many others.
G/O Media may get a commission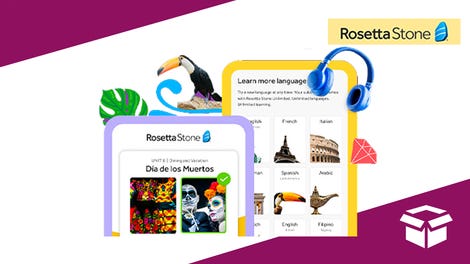 Extra 20% off
Rosetta Stone Lifetime Subscription - All Languages
The nonfiction side of Omni was just as fascinating, fueled in some ways by Guccione's and Keeton's personal obsessions. The first issue included an article called "Some Of Us May Never Die," which foreshadowed much more material in that vein, longevity being a particular fixation of the couple's. (The pair, married for many years, gorged themselves on vitamins, dietary supplements and human growth hormone; investigated everything from cryogenics to cloning; and eventually launched Longevity magazine in 1988.) Guccione himself interviewed futurist Alvin Toffler in the second issue (which featured a cover painting by H.R. Giger). The magazine published articles on everything from reincarnation to astro-farming, and consistently explored issues of creeping Big Brother-ism and the rise of a surveillance society, as might be expected from someone whose primary income came from pornography.
Omni died less than a year after Keeton did (of cancer, in 1997). Her loss seemed to have a truly debilitating impact on Guccione, who withdrew into his massive New York home. Penthouse got weirder and darker, publishing more and more hardcore and fetishistic material. Eventually, in 2003, he was ousted and the magazine was sold.
There's a terrific tribute website to Omni here, and this Rolling Stone article tells Guccione's story in grim detail. But for all Guccione's crazy business decisions (a Penthouse casino, a nuclear fusion reactor, the movie Caligula), Omni is a legacy any publisher could be proud of.
Phil Freeman is a freelance journalist who blogs about metal for MSN Music and edits the arts and culture website and magazine Burning Ambulance.