If you thought burgers, incest, and murder mysteries were all Riverdale had to offer, you'd be wrong. The CW just kicked it up a notch in last night's episode in the most bizarre way possible.

And no, I'm not talking about last week's classic soap opera revelation of Clifford Blossom's long lost twin Claudius. That was great and we all should have expected it. No, this new ridiculous thing happened in the first five minutes of the episode "Primary Colors." Allow me to set the scene.
After a brief update on the whole Betty/Chic situation (duh, Hal isn't the father), we cut to the Lodge's living room, dimly lit by a single fireplace. Hal is interviewing Hermione and Veronica for the Riverdale Register about her mayoral run and the planned maximum security prison. (Kevin is also there. For some reason.) Veronica tells Hal she's excited to show Riverdale that her mom is more than just a housewife. And in true late night talk show fashion, Hal responds, "Speaking of housewives, we have a very special guest... Bravo's very own Andy Cohen!"

And out walks Andy Fucking Cohen—of Watch What Happens Live fame—as if he'd been standing behind Hermione's drapes, just waiting for someone to say his name. So he could make his grand entrance to their living room. What the hell?!
G/O Media may get a commission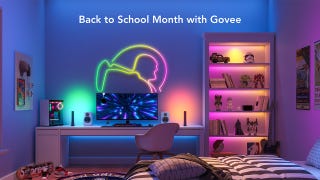 Back to School
Back to School Month with Govee Sale
In the end, there's—shockingly!—really not much explanation for the host being there. Kevin gets to take some photos with him and we learn Veronica was the one who invited him because they're "friends" (everyone who lives in New York City is, I guess?). Really good friends, apparently, as Veronica later promises Josie a guest spot on Watch What Happens Live in exchange for her endorsement in the school election.
Look, Riverdale, I appreciate and adore your... well, your everything. I was sucked into your ridiculous drama from the get-go and I've rolled with a lot of weird shit. I'll even let that Greg Berlanti Love, Simon product placement go because it looks like a lovely film, but randomly bringing in Andy Cohen for a surprise guest appearance during a interview with a small-town mayoral candidate—an interview, by the way, taking place is someone's home and that wasn't even being filmed because it was for a goddamn newspaper article? That's where I take a stand.