When you hear the name "Robert Rodriguez," a montage of images instantly comes to mind. Antonio Banderas shooting a gun shaped like a guitar case. Salma Hayek dancing with a snake. Two gadget-covered kids popping out of the screen in 3D. A black-and-white Mickey Rourke lumbering through a comic book frame. With Desperado, From Dusk Till Dawn, Spy Kids, Sin City, and others, Rodriguez has long made genre films that have stood the test of time. And during all of that, he's been toying with one other idea. One he thought could beat them all. That idea is Hypnotic.

Rodriguez first had the idea for Hypnotic back in 2002. In fact, it was the title he came up with first, followed by the idea of people who could control others with their minds. But at that point, it was mostly just that—an idea—so the filmmaker went off and did all those other incredible things we mentioned and more.
Years later, he finally made Hypnotic a priority, recruited Oscar-winning filmmaker and Batman himself Ben Affleck to play the lead, and now it's coming to theaters this week. And, at this point, you probably have some questions. Like maybe, why am I just hearing about this now? What took so long? And doesn't Rodriguez just make Netflix movies now?
All valid questions, all of which are covered in our Q&A with the legendary director. We also touched on his work on Star Wars with The Book of Boba Fett and more. Check it out.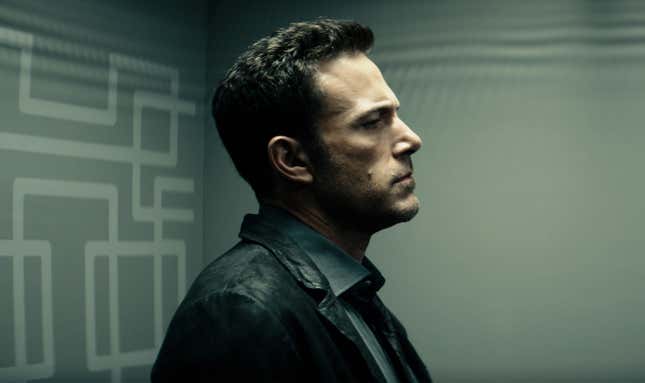 Germain Lussier, io9: Researching this movie, I was surprised to read that you've had the idea for this movie for decades. So my first question is, why didn't it happen then? And why did it happen now?

Robert Rodriguez: It wasn't necessarily supposed to happen then. Sometimes ideas come to you, and I was just so excited about the idea that I thought. "You know what? I've seen screenwriters put a screenplay out on the market that there's a bidding war for." This is an original idea. I don't have a deal with the studio where they're automatically going to get it. This is one that I bet I can write and just see where it goes. Maybe I don't get more than a normal script, but maybe people really like it and there's a bidding war and then the price goes up. I would love to have that experience. And if there's any one that's going to do it, it would be this one.
All I've got to do is finish it on my own dime in my own time, which I never found the time. I was always making something else where I was actually getting paid to do work. So money is not a good motivator, necessarily, to write. The idea of money down the line. It's always got to be about something more than that. So it took like 15 years before I go, "I'm never going to find the time to sit and write this thing on spec. I need to go sell it someplace. That way they pay me to write it and I'll sit and write it for myself to direct it." So that's what it finally took. Literally. [Then] it took me two months to write it. So 15 years and two months.
When it's a real project, you go and you work on your real project. You don't work on your someday project. And then I figured out [SPOILER REDACTED]. So it kind of got made at the right time. I wouldn't have had this cast. I wouldn't have had my sons at the level they're at to contribute as much as they did, to this propulsive score and other rewriting I needed on set every day with my son, who has gotten just so good at it with me and producing it with me. This cast, this set of circumstances with covid that made us lose shooting days so much that we had to get really creative, which made the movie better, I think. So even my crew was like, "Are you sure we can just get away with a sign and pipe and golf cart?" I'm like, "Yeah!"
io9: Yeah, that part works.
Rodriguez: We never would have done that originally. So it's my El Mariachi trick. Sometimes less is more. So I was glad that we got it made under these circumstances, in hindsight. It's not fun when you're going through it and you think, "Oh, my God, this is going to be barely scraping by, but the movie is going to end up being really tight." Instead of going in for a two-and-a-half-hour movie, you're going to be in there 90 minutes going, "Wow, that was fun."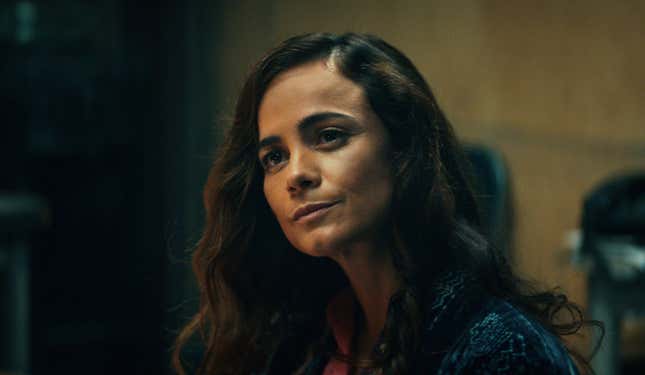 io9: Yeah, absolutely. Now, when you first had the idea, in 2002, modern superhero movies were still in their infancy. And while this isn't a superhero movie with capes and stuff, the idea of people with powers certainly has that kind of vibe. Do you think the genre kind of exploding in the 20 years since helped this movie at all, or do you think it changed it in any way?
Rodriguez: Yeah, I think it helps people buy into it a lot more. I wasn't sure at the time when I came up with it. And how I came up with it was not that intellectual at all. It was more I just loved Hitchcock movies. Even El Mariachi was a Hitchcock-type movie: mistaken identity, wrong man, as he did so well. And Vertigo got rereleased and restored on DVD in 2002. I was watching it and going, "Here's another one. Lots of twists, a major star in the role, and a one-word title that's very enticing." Vertigo, Psycho, Spellbound, Frenzy. So then all the answers are within us, right? We just got to ask the right questions. So I always try to ask good questions. Like if I want to make a Hitchcock-type movie, if kept making movies for another 10 years, what's another one-word title he would have come up with so it fits in that realm? 
io9: [Laughs]
Rodriguez: And then right away it came to my head: "Hypnotic." I was like, "That sounds cool. What does it mean?" I know I don't want to make a movie about hypnosis, that's not strong enough. But what if a hypnotic is what they call these people who have an ability far beyond that and you don't reveal to the audience what it is because it keeps changing and keeps growing? Till the very last shot, you don't realize they're capable of things. So I thought that could be fun because then the audience doesn't know what the rules are. You can even say rules up front, but you keep changing the rules and switching them and making them get more powerful.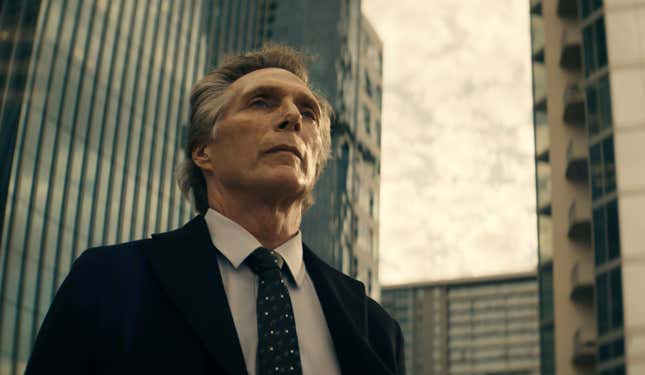 So it was just a clever way to pull a lot of $2 tricks off in my mind like Hitchcock did, where some of the most powerful tricks are just an edit. And the other big thing that I loved about the idea was it's about what we do as storytellers and filmmakers. We create a hypnotic construct in a movie theater for an audience with actors, with lines, and they know that it's got to be strong enough that they don't see the lines so that they believe in it enough, invest in enough to cry or laugh or cheer, tell their friends to go see it too. And if you really do a great job, they love the characters so much, they love those characters more than their own friends. Like all those characters you have up on your shelf, you don't even have a picture of your siblings or whatever. But you got those things up. That's the power of hypnotic constructs, creating something that feels so real.

And so I thought, "Let's do that in the movie where you peel back the layers and you realize, 'Oh, I was watching this movie and then I was watching a movie within a movie. And I'm part of the subject too.'" I thought that would be a lot of fun. That's really what kept me attached to it for so long and wanting to make it, because I just didn't think anyone would ever do that approach to that kind of a story. So I thought that would make it kind of fresh and new and different.
io9: And I think because it's fresh, new, and different, one of the things I was most surprised by is that it's got you, a big director everybody knows, it's got Ben Affleck, a big actor everybody knows, and yet it's not a big studio movie. What do you think the reason is this isn't getting 4,000 screens on a summer weekend and instead it's a more limited release?
Rodriguez: I mean, at the time when I was first selling this, like in 2015, I just went straight to an independent producer friend of mine who had started his own company. And I just thought, "I love independent films. I want to make a movie more independently." I won't get the studio interference. They'll want to do all kinds of things to it. They invest too much money in it. I like coming up with a really big idea and having either a small or medium-sized budget. Like if you have a small or medium-sized budget, you don't come up with a small or medium-sized idea. You would come up with a really big idea like hypnotics or kids that are spies, and you put sunglasses on them and they look like spies.
io9: [Laughs] Yes.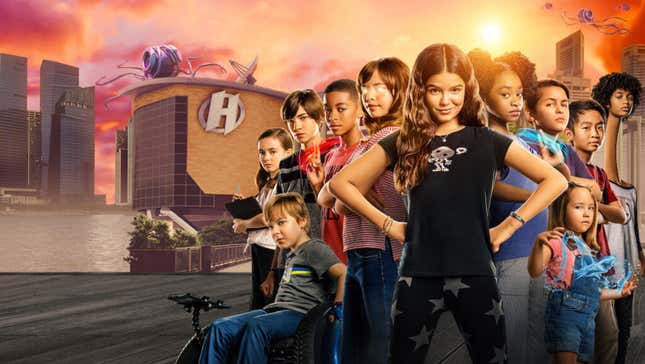 Rodriguez: The idea is so big that even if you have no money, the idea just grows in your head. So that was always sort of my trick. I thought, "Let me make an independent film, like my early films, where I have the creative freedom to do whatever I want, and just have a big idea so that when people see it, they go, why isn't it a big studio movie?" Well, because it's a big idea, but it's not necessarily a big movie—but you'll feel like [it's] a big movie because it has a star. And if you can do that, you're a studio killer. Studios don't have scripts that can attract stars sometimes. So if you can do that, there's a lot more freedom. And I prefer the freedom and I prefer just making movies on my own terms.
io9: Obviously, this is going to play in theaters, but you also have a great relationship with Netflix, too. A couple of your more recent movies were there. Have you found that making movies specifically for streaming is a necessary transition as the industry adapts? And do you see yourself continuing to do that in the future?

Rodriguez: That was my own idea. I just really knew the value my family films had that no one else really knew, because I would hear anecdotally from people. "My kid watches that VHS over and over and over again." Spy Kids or [The Adventures of Sharkboy and Lavagirl]. Or they watch it over and over again on Disney Channel. I thought the box office didn't reflect how much kids actually watch that stuff. So I wanted my family films specifically to go to Netflix because they keep track of how many times a movie is not even watched to completion, but also the repeat value. And it's off the charts on We Can Be Heroes. That thing was in their top 10 for over a year and it keeps jumping back to their top 10 years later. They've never seen a movie behave like that.
It's because kids are voting with their fingers. They can't drive themselves to the theater, but they can hit that button. They can't get their parents to drive to the theater a hundred times, but they can hit that button 100 times. And that has value. So my family films, definitely, I would want always to go to a streamer because it gives kids access to watch it over and over again. And that becomes engagement that raises your value as a filmmaker. And then movies like this, I always wanted to be it a more theatrical release. So it depends on the film. Like another, [Alita: Battle Angel], would be a big-screen release you'd want in 3D, and all the bells and whistles you'd expect from a [producer and co-writer James] Cameron movie.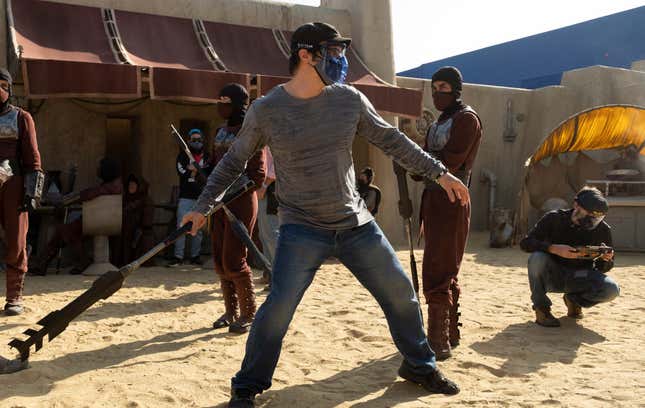 io9: You did great work on The Book of Boba Fett. Looking back at that show now, how do you feel about it and its reception?
Rodriguez: Oh, man, I loved doing that show. And I loved even how I got in, accidentally, on Mandalorian, getting to bring back Boba Fett. If that's all I got to do was that episode where Boba shows back up. That would have been great. [Covid also played a role] because I would have not been able to do The Book of Boba Fett at all because it meant seven months in Los Angeles. I can't be there for seven months. I'm always doing stuff down here [in Austin, TX], but everything was shut down, so we had to just be scrappy and make due with what we had. It was really tough, but we were one of the only productions shooting during covid. It was really hard to even see what you were doing in a mask and shield. But it was such a blast.
And I knew I was gonna learn a lot from Jon Favreau because he wrote scripts and pre-visualized everything with the Star Wars team. And everything you saw every day, you'd see another creature animatronic, it didn't feel like you were seeing behind the scenes. It felt so real. Like the sets were so real. Even the volume was so real that you felt like you were in Star Wars. So I was kind of like as a director, you know, there's these's things called "Rock Camp" that if you want to go play with Joe Perry or something, you pay money to get on stage for two seconds with him. This is what a director would pay money to do. To have Star Wars camp. To get to direct and edit and be part of the Star Wars universe just as an experience is one of my favorite experiences because it was just a dream come true.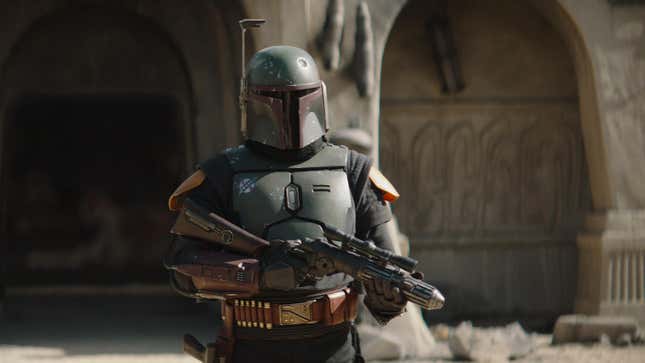 io9: Obviously we didn't see Boba in The Mandalorian season three. Do you think we'll see more of him in the coming shows, movies, or whatever else they're planning and do you have any say in that?
Rodriguez: I can't say. I'm sworn to secrecy. I wish I could tell you. I know all the answers to what you're asking, but I can't say.
io9: *Sigh*
Rodriguez: Lifelong Star Wars fans, man, you know how that feels. It's just so great. People will like stuff and or not like stuff but the real Star Wars fans, we just love everything. We just love everything that comes out because there just can't be enough, you know? It's a lifelong affair you've had with this stuff. This is a relationship that's lasted longer than probably any other relationship you've had, with Star Wars stuff. So it means a lot to us.
io9: Okay, speaking of things you probably can't talk about, Hypnotic leaves some room to continue if people show up to see it. If you're that lucky, would you want to come back and are there ideas to continue?
Rodriguez: I have a lot of ideas. I always thought it could even be a TV series. I'm sure somebody will rip it off and turn it into a TV series. That's what they always do. "Let's make a TV series before someone rips us off and does their own TV series." But yeah, I thought that was a really strong idea. I would love to do more.
---
Hypnotic, starring Ben Affleck, co-written and directed by Robert Rodriguez, is in theaters Friday.

---
Want more io9 news? Check out when to expect the latest Marvel, Star Wars, and Star Trek releases, what's next for the DC Universe on film and TV, and everything you need to know about the future of Doctor Who.