This week in the world of cartoons, everything took a week off. Ultimate Spider-Man, Transformers: Prime, Adventure Time, Regular Show and TMNT are off, while Teen Titans Go! returned for its second week. Due to this bizarre scheduling anomaly, enjoy the new TTG! clips and a look back at some old school Star Wars cartoons in honor of May the 4th!
---
Teen Titans Go! – "Driver's Ed"
First, I know there's a lot of negativity about this show. It features almost the same cast as the fan favorite Young Justice, but in a sitcom format with a radically different animation style. Give it a chance - there are some really talented people behind the show, and the better TTG! does, the more likely we are to see a Young Justice reboot/return in the future due to the cyclical nature of maturing audiences.
I'm off the soapbox now.
This episode kicks off with Beast Boy playing a Gradius-style NES game with a Metroid end-boss, leading to Robin hitting up every member of the Teen Titans in hopes of getting a ride around town. Robin's license is suspended after wrecking the Batmobile, with Batman's ward spending the rest of the episode with a shady fella in hopes of getting his license back.
G/O Media may get a commission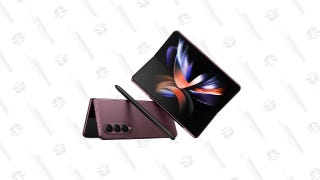 Save Up to $300
Galaxy Z Fold4
Teen Titans Go! – "Dog Hand"
This episode stars Raven's dad Trigon, who is a demon, but doesn't appear to be all that awful. Check out this clip to see Trigon conversing with Raven's teammates in an almost Cosby-like manner.
The Ewoks – "Cries of the Trees"
As today is May the 4th, the annual Star Wars media holiday, here's a look at two classic 1980s Star Wars cartoons. The Ewoks took a look at the mystical lives of the denizens of the forest moon of Endor, but is probably best remembered for its awesome theme song, which you can hear above.
Droids – "A Race to the Finish"
Droids looked at the lives of R2-D2 and C-3PO prior to A New Hope. Anthony Daniels returned to voice C-3PO for the series, with this episode one of the more memorable ones of the limited run thanks to an appearance by Boba Fett. Enjoy May the 4th!
---
Top image courtesy of DC & Cartoon Network. Teen Titans Go! airs Tuesday nights and Saturdays on Cartoon Network. Ewoks and Droids aired 25+ years ago (jeez, I'm old), but some episodes are available on DVD.