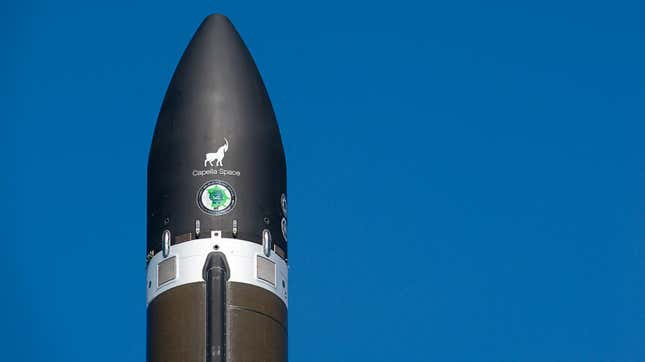 Rocket Lab is riding the wave from last year's success, gearing up for rapid back-to-back launches from sites in New Zealand and the United States. One of the planned launches will initiate a new partnership with U.S. space tech company Capella Space.
Astronomers Could Soon Get Warnings When SpaceX Satellites Threaten Their View
On Tuesday, Rocket Lab announced that it had secured a multi-launch deal with Capella Space to send its SAR Earth-imaging Acadia satellites to low Earth orbit. Four Electron rocket missions will liftoff as part of the new deal, each carrying a single satellite.
The first mission is scheduled for launch sometime in March, taking off from Launch Complex 2 at NASA's Wallops Flight Facility in Virginia. Meanwhile, another Electron rocket is being simultaneously prepped for liftoff from Rocket Lab's Launch Complex 1 in New Zealand to deploy satellites for Spaceflight Inc. customer BlackSky, according to Rocket Lab.
Both launches are set to take place this month, with Rocket Lab finalizing its launch windows soon. The company emphasized that the two missions "are expected to launch within days of each other," Rocket Lab wrote in its statement.
"The ability to run simultaneous launch campaigns and deliver a rapid launch cadence is exactly what Electron and our launch sites were built for," CEO Peter Beck said in the statement. "We're dedicated to serving the responsive space needs of our customers across commercial and government space."
The Electron rocket in Virginia has already undergone a wet dress rehearsal and Rocket Lab is waiting for range clearance from NASA and the Federal Aviation Administration.
Rocket Lab's small lift launch vehicle took off from NASA's facility on Wallops Island in Virginia for the first time on January 24, ushering in a new era for the company to launch from U.S. soil. The new Virginia pad is meant to foster missions for both government and commercial customers.
Rocket Lab ended last year strong, doubling its order backlog from around $241 million in contracts at the end of 2021 to $503.6 million at the end of 2022, CNBC reported. The company also reported $51.8 million in revenue for its fourth quarter, an increase of 88% from the year before.
The company has big plans ahead, even wanting to launch the first private mission to Venus. But for now, Rocketlab has its hands full while operating rocket launches on two different continents simultaneously.
More: Lunar Lander Travels Deeper Into Space Than Any Other Commercial Spacecraft