While rocket launches aren't typically thought of as "cute," watching the maiden voyage of Rocket Lab's Electron rocket is the closest we'll get to seeing the Brave Little Toaster go to space. Today, the 56-foot (17 meter) carbon fiber rocket blasted off from New Zealand's Mahia Peninsula and made it to the edge of space. Though Electron didn't make it into orbit, it tried its best, and that's all that counts.

"It was a great flight," Rocket Lab founder and CEO Peter Beck said in a statement. "We had a great first stage burn, stage separation, second stage ignition and fairing separation. We didn't quite reach orbit and we'll be investigating why, however reaching space in our first test puts us in an incredibly strong position to accelerate the commercial phase of our program, deliver our customers to orbit and make space open for business."
Rocket Lab is a New Zealand-based startup that plans to specialize in launching nanosatellites called CubeSats. While its rockets are much smaller than SpaceX's Falcon 9 or Blue Origin's New Shepard, the (relatively) lightweight rocket hopes to dramatically cut the cost associated with launching CubeSats, opening the satellite market up to smaller companies and researchers that currently can't afford a ticket to orbit.
Here's Electron from the ground:
G/O Media may get a commission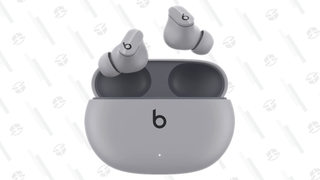 Now here it is in space:

Today's launch, aptly named "It's a test," is the first of three test flights Rocket Lab has planned for this year. The company hopes to launch more than 50 times a year once it's at full production, partnering with NASA, Moon Express and more.
Way to go, Electron! You did a great job, even though you still need googly eyes.