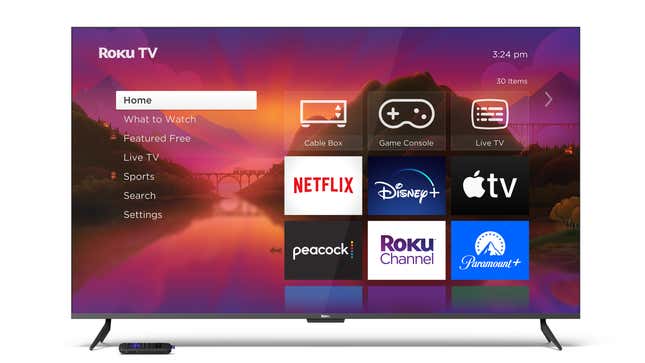 Roku's making its own TVs, and they're available to buy starting today. The Roku Select and Roku Plus TVs follow the initial announcement at CES 2023 that the company would be getting into manufacturing its own displays, perhaps as a response to how many TVs come with streaming capabilities built-in these days, or to ape Amazon's strategy of releasing heavily subsidized TV hardware. Roku also plans to roll out new features to its streaming OS over the coming weeks and months.

How Does Gerard Pique's New Twitch Indoor Soccer League Work?
Roku's TVs come in 11 different models, ranging from 24- to 75-inches in size. Roku Select TVs start at about $120 and are meant for the budget conscious, while Roku Plus TVs start at $650 and offer a more high-end viewing experience. Even for the higher end models, that starting price is still more reminiscent of Amazon's budget friendly Fire TV sets than the latest Sony OLEDs.
The Plus Series of TVs includes features like QLED, 4K Dolby Vision, automatic brightness based on ambient light, and local dimming. The sets also come with the Roku Voice Remote Pro, which offers hands-free voice commands for shuffling through content, a lost remote finder, and personalized shortcut buttons. That's right, you can program the blank buttons on the remote to the streaming apps you actually use rather than having to deal with whatever Roku prints on there for you.
The new TVs are only being sold at Best Buy for now, again pointing to likely pricing deal wizardry going on behind the scenes. Roku had announced that the Roku Wireless Soundbar would accompany this release in January's initial Roku TV reveal. But the company now says the soundbar will be releasing online and in stores later this month.
Roku is holding on to its spot in the streaming box/service market for dear life. Like with Amazon's Fire TVs, it's likely that the idea behind selling TVs is less to make money on them and more to get Roku branded hardware in people's homes as a way to coax them onto its platforms in the age of Google TV and Apple TV. Hence the low starting costs. At the very least, the company can boast it's one of the few platform-agnostic smart TV operating systems available. Whether that gets folks to buy its bespoke TVs remains to be seen, especially since there are still third-party Roku TVs floating out there from partners like TCL.
Roku OS 12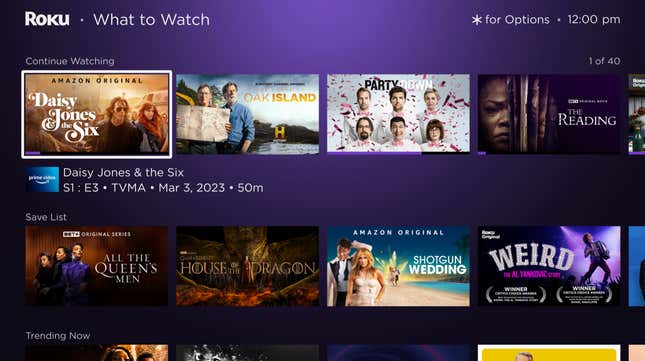 Roku OS 12, which has been in an internal beta for a while, will roll out to Roku users starting by the end of March 2023, with additional updates coming for new channel partners in the coming months, including content expansion and updates to the mobile app. The software adds features like local news channels and more sports coverage as a part of Roku's free Live TV experience. It offers an improved Continue Watching feature, which bookmarks your recently watched content. New services compatible with Continue Watching include Discovery+, Amazon Prime Video, and FreeVee.
The Roku app for mobile is getting a makeover to match the new operating system. The app will include a re-made account hub and a home screen that matches the TV interface. There's also an emphasis on Roku's Live TV channel guide in the new UI. And if you use a Roku set-top box or TV as a photo display, you can upload the photos through the app and invite others to contribute, too.