The world of Star Wars was shook to the core Tuesday afternoon when Lucasfilm announced that Phil Lord and Chris Miller would no longer be directing the Han Solo standalone film. However, there's already a very famous frontrunner: Ron Howard. (Updated below with more details about the reason for Lord and Miller's departure.)
Deadline reports that Howard and co-writer Lawrence Kasdan are both being considered to take over the film, but that Howard is favorite.
This happens, of course, after Lord and Miller left the project due to "creative differences." In the official announcement, Lucasfilm stated that the film was still on track for its May 2018 release, so they'd need someone to come in pretty quickly and continue the work Lord and Miller had been doing.
Which was a significant amount of work. The duo had been shooting for several months and still had a few weeks left of filming. Most expected some news from the film, possibly even a teaser, to be screened at July's D23 Expo.
G/O Media may get a commission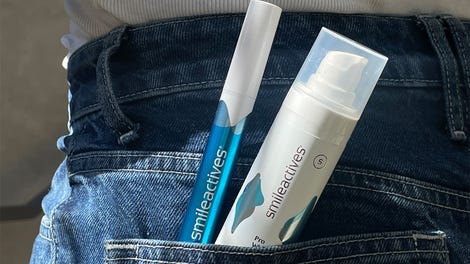 58% off
Whitening Powerhouse Pen & Gel Duo
Beyond the official announcement, the rumors as the why Lord and Miller left the film have been flying fast and furious. The most plausible suggest Lucasfilm president Kathleen Kennedy didn't think Lord and Miller's work was "Star Wars" enough and wanted to bring in some outside help for reshoots, much like Tony Gilroy was brought in on Rogue One. However, the rumor continues, Lord and Miller didn't want to compromise their vision and that was that.

If Howard is the replacement, he makes a ton of sense. Not only is he a talented, seasoned filmmaker, he's a consummate professional who could handle both the pressures of finishing the film and subsequent controversy that will be the primary talking point surrounding the film until its release.

There is much, much more to discuss and uncover about this story, so keep an eye here for more as it breaks.
The still-untitled Han Solo Star Wars story is still scheduled for release May 25, 2018.
[Deadline]
Update: The Hollywood Reporter has several new details on this situation. First, they say that Star Wars alum Joe Johnston is yet another possibility to replace Lord and Miller, though Howard remains the favorite.
They, along with Variety, also report that the riff on set, broadly discussed above, started very early in production. Specifically it was with Kasdan and Kennedy. Lord and Miller's more "improvisational style" that they've employed on their previous films was at odds with Kasdan's stricter, shoot-the-script, approach. Kennedy agreed with Kasdan. They worried Lord and Miller's style resulted in a Han Solo that wasn't representative of the character. Something more comedic than suave. And though Kennedy thought the issue could work itself out over the course of the shoot, eventually, that didn't end up being the case.
"Kathy, her team and Larry Kasdan have been doing it their way for a very long time. They know how the cheese is made and that's how they want it made," a source told Variety. "It became a very polarizing set."
Now the next few weeks will consist of the new director, whomever it may be, going over the previously shot footage and figuring out what can be salvaged. No one yet knows how, or if, Lord and Miller will be credited on the final film.