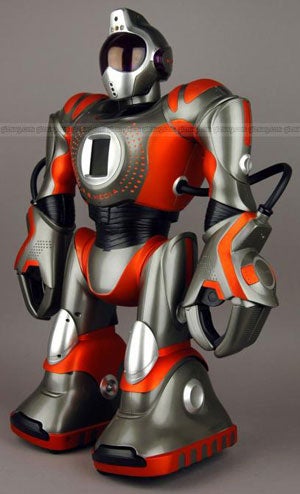 It's clear that WowWee Robotics' Robosapien has some fans here and the latest model, the RS Media, offers more multimedia functionality than you could ever want from a little robot. The robot, a prototype of which was demoed at CES earlier this year, features an integrated LCD on which MPEG videos can be displayed; 50MB of internal memory store video and music files transferred over from a PC. Music bellows from the stereo speaker located in the robot's hands and a subwoofer on its back.
The RS Media is able to walk around the house, effectively "seeing" with infrared vision and moving about like an old man in a park feeding pigeons thanks to foot and gauntlet sensors. If the robot "hears" a sound, it will investigate and confront the culprit.
The 22-inch-tall RS Media will go on sale in Australia of all places this October for around $610 in real money.
The next Robosapien - fully programmable RS Media [gizmag via Shiny Shiny]
WowWee Robotics Home Page [WowWee]