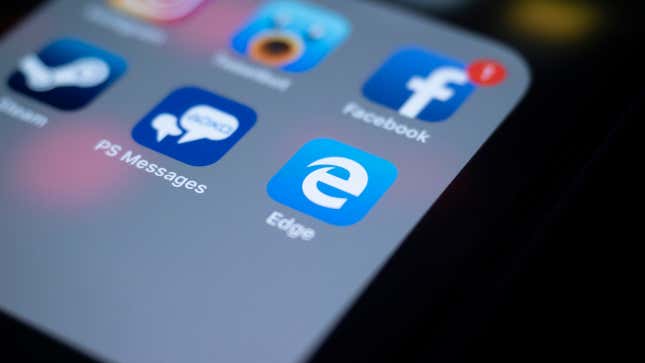 Microsoft is purportedly planning a major change to its Edge browser. A report from Windows Central suggests Microsoft plans to ditch its proprietary EdgeHTML back end for Chromium—which could spell a more pleasant browser experience for Edge users.

Vizio's Latest TVs Go All Quantum
If this sounds like Greek, then what you need to know is EdgeHTML is a rendering engine Microsoft specifically built for its browser. It was meant to help Edge be a fast, secure, and lightweight browser, but the reality is it just hasn't been able to keep up support or performance-wise with the competition. Meanwhile, Chromium is an open-source browser project powered by the Blink engine and it forms the basis for Google Chrome—the internet's most popular browser.
It's about time. While Edge is much better than when it first launched in 2015, it still plays second fiddle to Chrome and Firefox. Part of that is due to continued instability issues, but also those early problems meant users and developers haven't been keen to show Edge much love. That's why Microsoft throwing in the towel on EdgeHTML is a good thing. Not only will it be easier for web developers who already have to support popular engines from Google (Blink), Mozilla (Gecko), and Apple (WebKit), switching will make it easier for Microsoft to create unique Windows 10 features in the new browser and hold its own against other Chromium-powered competitors like Opera, Amazon Silk, and Brave.
It's unclear whether this new Chromium-powered browser will keep the Edge name. The Windows Central report claims the new browser has been codenamed "Anaheim." Naming aside, it's also not clear whether the Anaheim browser will keep any of Edge's user interface or opt for a complete redesign. When any of this will happen is also up in the air.
It might, however, signal a smoother relationship between Windows 10 and Chrome. Last month, Microsoft teamed up with Google and Qualcomm to get Chrome for Windows 10 on an ARM computer. The unlikely collaboration is a heel turn from last year, when Microsoft removed Google's Chrome installer from the Windows Store.
Now if only Microsoft would fix Bing.