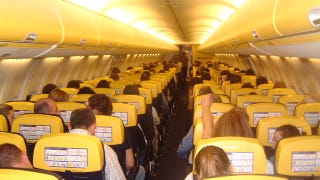 "Hotels around the world have it, so why wouldn't we?" is what Michael O'Leary, boss of budget European airline Ryanair, says about in-flight porn. Joining the mile high club might be about to get a lot quicker and easier.
Obviously, the concept of having soft porn blaring out from the back of every seat is a little much, even for Ryanair, so this would be done through letting us use our smartphones as receivers, so we can put the blankets over our heads for enhanced privacy.
Ryanair's plans are much wider then the headline-grabbing porn angle. The planned entertainment app would work on iPad and other "smartphones", offering personal access to the usual array of in-flight movies and TV shows, plus games and all the usual flight information.
The plan is apparently dependent on Ryanair securing a decent in-air broadband provider, to keep it all working. [The Sun via Gizmodo UK]
---
Our newest offspring Gizmodo UK is gobbling up the news in a different timezone, so check them out if you need another Giz fix.