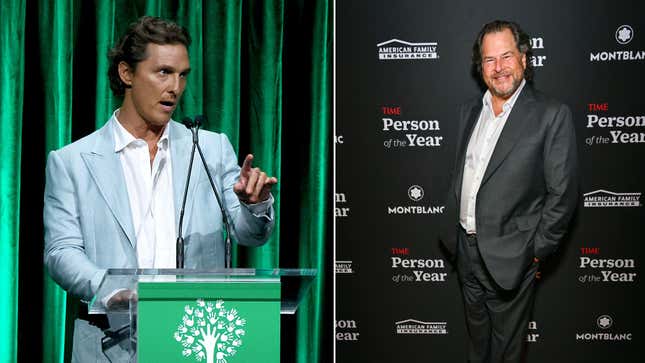 Actor Matthew McConaughey is reportedly getting paid more than $10 million a year by cloud computing giant Salesforce to be the man to tell regular folks they want to "create more opportunities" clap. That they want "less cancellation and more conversation, prioritize conservation, and empower future generations" clap. Though what that recent commercial isn't saying is Salesforce has started a different line of thinking about its workforce clap. More investors and execs are pushing leadership toward wringing out more efficiency from staff, instead of the once-stated focus on "wellness" clap.
Vizio's Latest TVs Go All Quantum
A Tuesday Wall Street Journal report said that while Salesforce was taking the axe to thousands of employees in a recent series of layoffs, it was keeping McConaughey on the payroll. Salesforce CEO Marc Benioff is reportedly a friend of McConaughey, and according to unnamed sources familiar with the arrangement he is being paid his $10 big ones through cash and equity. The True Detective star has given his McConaughey-isms in a $5 million Super Bowl commercial as well as more recent ads.
Benioff called marketing expenses like McConaughey's much less than payroll for thousands of employees, according to the Journal's report. This report comes just as Salesforce plans to release its latest quarterly earnings later Wednesday.
Salesforce did not immediately respond to Gizmodo's request for comment.
In January, Salesforce laid off 8,000 workers, or about 10% of staff. According to a leaked letter to staff, the company claimed it had overextended itself and had done too much hiring during the pandemic years. The company had grown nearly 60% since early 2020. Benioff said he would "take responsibility" for the poor hiring decisions. Of course, Salesforce wasn't the only tech company dumping thousands of employees to the curb for similar stated reasons, but it was one of the few in the tech field that tried to describe its staff as "family."
Salesforce has long tried to look like the one tech company that has a real human face. Its CEO, Marc Benioff, has tried to seem considerate of employees, such as when he barred the company's software for use in firearms sales, or when he promised to help employees access abortion after the end of Roe v. Wade. He's been out front trying to show how he's not like the other Silicon Valley megarich, and at times has tried to appear considerate of employees' cultural demands.
A leaked draft policy proposal posted to the company's slack reportedly showed that Salesforce planned to rank employees on metrics such as the amount of money they bring in. The bottom 5% would be considered for cuts. Some Salesforce execs claimed "wellness culture overpowered high performance culture during the pandemic." After employees learned of the proposal, Benioff dumped the proposal, reportedly saying "that is not a culture [staff] want to bring to Salesforce.
Still, some of those cut employees included barista workers at the San Francisco Salesforce headquarters. The company has also reportedly cut a "well-being day" that amounted to an extra day off each month, as part of the layoffs. The company has also required 65% of its workforce would need to be in-office three days a week, with some needing to come in four days instead.