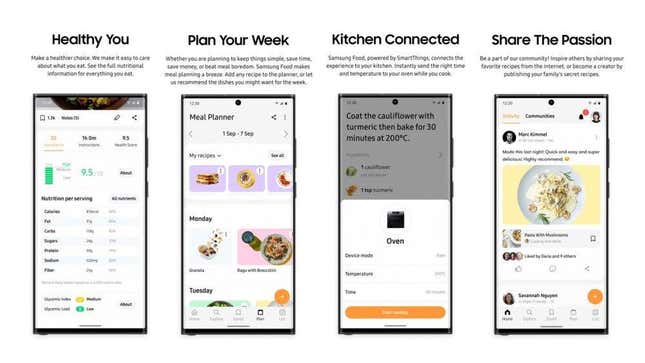 Samsung Electronics is releasing a food and recipe app powered by AI with 160,000 recipes readily available to users, the company announced on Wednesday. The app, called Food, builds on its previous acquisition of Whisk, a food database that Samsung acquired in 2019.
Samsung Shows Off First LaserSlim OLED TV
Available in eight languages, Food will be released in 104 countries to control users' cooking appliances, create meal plans tailored to their needs, and suggest new recipes. Food will also implement Vision AI technology starting in 2024, which will also discern nutrition information just by snapping a picture of a meal and will reportedly recommend recipes the user can create with just the ingredients they have, Samsung said in a news release.
Vision AI trains computers to use machine learning (ML) to use information from digital images, and videos and make recommendations based on the information it receives.
"The food we enjoy and the way we prepare it are central to our daily lives, and we all love to cook and eat together,"By connecting digital appliances and mobile devices across the Samsung ecosystem and assisting users from shopping list to dinner plate, Samsung Food is using advanced AI capabilities to deliver a highly personalized, all-in-one food experience that users can control straight from their palms," said Chanwoo Park, Executive Vice President and Head of the Service Biz Group of the Digital Appliances Business at Samsung Electronics said in the news release.
While Samsung's press release offers download links for Food on iOS, Android, and Samsung Family Hub smart appliances, the link still redirects to the Whisk app which served as the building block for Food. Samsung did not immediately respond to Gizmodo's request for additional information.
Whisk's extensive database provided the Food app with suggested meals tailored to the user's preferences and food seasonality. Samsung's software and services innovation hub, Samsung Next, took on the Whisk food platform as it sought to enter the food industry following the production of its Samsung smart appliances. The new app allowed users to link up their appliances with the app, but now the company is taking it one step further.
The Food app's AI function is what creates recommendations for users based on their dietary preferences and their input for the type of food they enjoy. The company says it will roll out additional features in the coming months and intends to integrate it into the Samsung Health platform which will reportedly provide users with better nutritional logging and diet management.