When is an Ultrabook not an Ultrabook? When it's got a 14-inch screen, weighs 4 pounds and has an optical drive, that's when.
Samsung has just announced its new Ultrabook range, branded Series 5 Ultra, reports Sammy Hub, and amongst them is one that stands out. Not for good reasons, though.
One of the models boasts a 14-inch screen. Nothing wrong with that, per se. But it also features an optical drive, a 1TB HDD, discrete AMD graphics, HDMI and Ethernet ports, and a whole swathe of brushed aluminum. All of which makes it 0.83-inch thick, and causes it to weigh in at 4 pounds.
Sorry, Samsung, did you miss the memo? Ultrabooks are supposed to high-performance, sure — but they're also supposed to ultra-portable. This 14-inch whopper is not an Ultrabook.
G/O Media may get a commission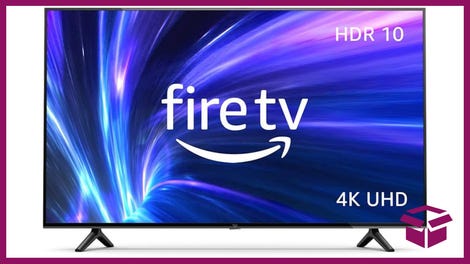 42% Off
Amazon Fire TV 50" 4K Smart TV
Samsung has also announced a more standard 13-inch model, which is 0.59 inches thick, weighs 3 pounds, and doesn't have an optical drive. With a Sandy Bridge processor, combined SSD and HDD and the usual shiny casing, it looks set to blend right in to the deluge of so-so Ultrabooks we've seen so far.
They're launching in Korea this month, and will appear in the US before too long. Launch price in Korea is equivalent to about $1,300 for the 13-incher and $1,345 for the 14-inch beast.
This a great example of just how absurd labels like "Ultrabook" are. When manufacturers stick a name like that on any old product, it's bound to cause confusion amongst consumers. The knock-on effect is that both the fat and thin products tagged as Ultrabooks suffer: the monster machine never lives up to its name, and the skinny one's reputation is tarnished by association.
Even if both are fine computers — and they might be — they're both going to suffer. And that's a shame. Sort it out, Samsung. [Sammy Hub via Pocket Lint]